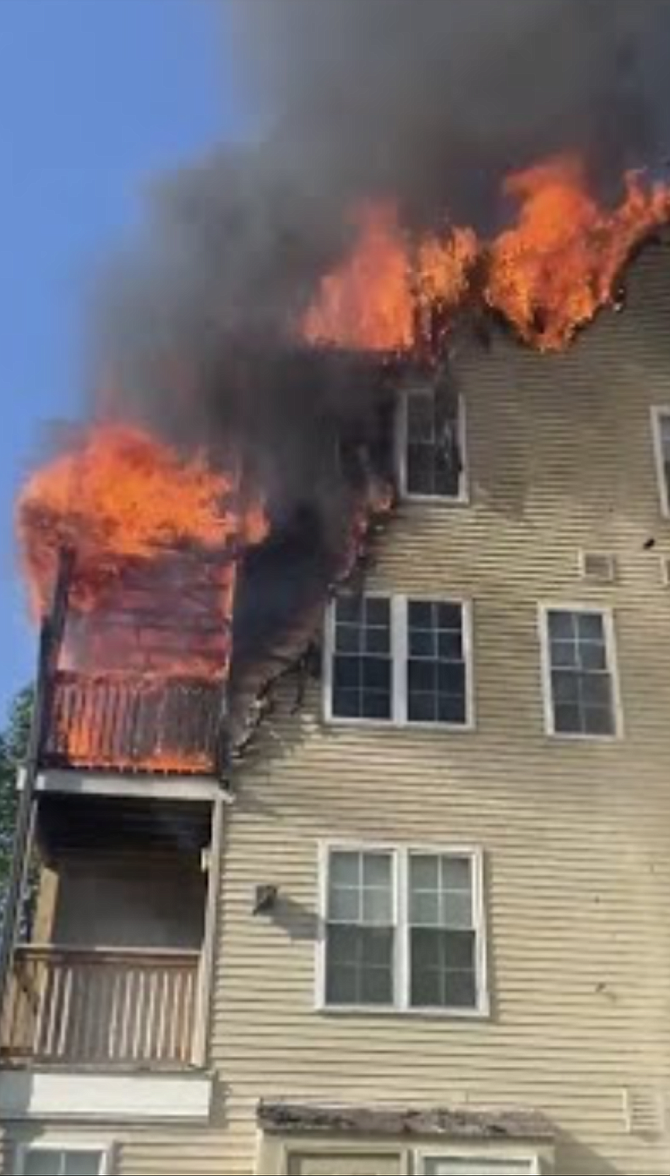 Some 28 residents of an apartment building in Centreville's Newgate community were displaced Saturday after a two-alarm fire there. Fairfax County fire officials estimate the damage at approximately $370,100.
Fire and Rescue units were dispatched May 9, around 5:36 p.m., for a reported garden-apartment fire in the 14400 block of Newton Patent Court. First-arriving firefighters saw heavy smoke visible from the four-story building and discovered fire on a third-floor deck, extending to the roof.
A second alarm was struck, bringing additional units from Fairfax County, as well as firefighters from Loudoun County and the Washington Metropolitan Airports Authority. Although the flames were wind-driven, crews used both interior and exterior hose lines to quickly bring the blaze under control.
Meanwhile, firefighters searched every apartment to make sure all residents were safely out of the building. No one was injured. Three people were home in the apartment where the fire began. One of them smelled smoke, looked around and saw fire from her balcony window. She alerted the remaining occupants and they all evacuated before the firefighters arrived.
Fire investigators determined that the blaze was accidental, starting on the third-floor balcony after someone improperly discarded fireplace ashes there. Of the total building occupants displaced, 14 accepted assistance from the Red Cross.