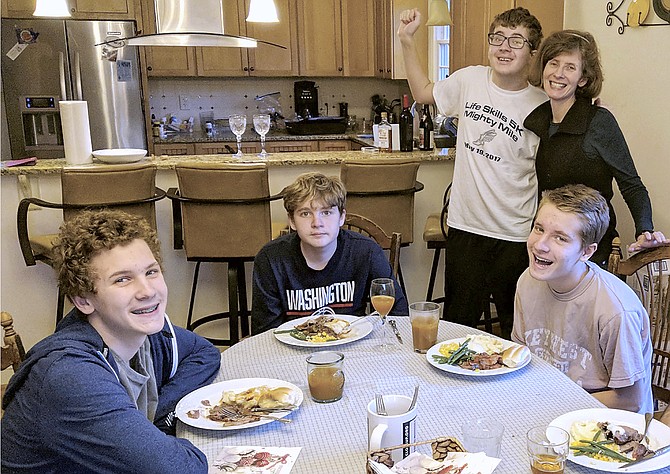 Whether deciphering algebraic equations and trying to teach them to a disinterested child or helping with a science experiment during a Zoom conference call, for parents who are trying to homeschool their children during the current COVID-19 pandemic, the struggle is real. Last fall, some parents developed a plan to deal with the academic burnout that occurs as the school year neared an end. Little did they know that the plan they created would be themselves.
"You aren't alone. No one is judging you. I work full-time, manage a home, finances, health issues. But the hardest part? Attending to my four sons' school tasks, personal care and emotional survival. I'm not unique," said Linda McKenna Gulyn, Ph.D., Professor of Psychology at Marymount University. "Relax your standards. We actually do have ways to take control."
"Put yourself on a kid schoolwork schedule. One hour a day helping with school assignments is truly enough."
—Linda McKenna Gulyn, Ph.D.
Recognizing and accepting burnout is one of the first steps in taking that control. "Parental burnout occurs when there are relationship problems with children, feelings of fatigue or depression, and perceived lack of control," said Jerome Short, Ph.D., Licensed Clinical Psychologist and Associate Professor of Psychology at George Mason University. "It may help to first take a break, like go for a walk with or without the children, and then discuss ways to change family routines and get along better."
Asking for help is not a sign of weakness. "If you're in a two-parent household, make sure you and your partner are working together as a team," said Joanne Bagshaw, Ph.D., Professor of Psychology, Montgomery College. "Remote work and distance learning have been particularly hard on working mothers, who are trying to keep themselves and their families sane during this extraordinary time while managing the bulk of the housework and childcare. Ask for more help from your partner if you need it. And more importantly, if you're the parent who tends to do less around the house, this is your chance to step up and share the burden with your partner."
In fact, seeking assistance from the resource teachers at the school of one's child can reduce angst. "For students with disabilities, make sure that the modifications given also help lower frustration to alleviate stress," said Bagshaw.
Parents who are experiencing burnout should practice self-care to help with surviving the last few weeks of school. "Plan for individual and group fun activities during each day as rewards for completing schoolwork and housework," said Short. "Be kind to yourself and focus on some personal goals so that there is balance with parental goals. Try to get restful sleep, enjoyable exercise, and tasty nutrition each day."
Avoid comparing oneself to the picture perfect images of COVID-19 harmony that abound on social media.
"Don't believe reports – especially on social media – about creative, inventive parents, enjoying the additional closeness with their children during this time," said Gulyn. "I don't."
"Manage your expectations," added Bagshaw.
"Try to avoid getting caught up in all the details of what you think should be done, and how, and keep the big picture in mind. What children and families need right now is lowered stress, and less pressure, not more."
Set limits to the amount of time spent helping children with schoolwork, advises Gulyn. "Put yourself on a kid schoolwork schedule, she said. "One hour a day helping with school assignments is truly enough," she said. "Kids are better at technology than most of us. My kids learned quickly how to work on-line for school meetings and assignments. Trust them."
Get support from fellow parents who might be feeling the same way. "We might feel relief and less isolated if we observe most fellow-parents are simply hanging on," said Gulyn.