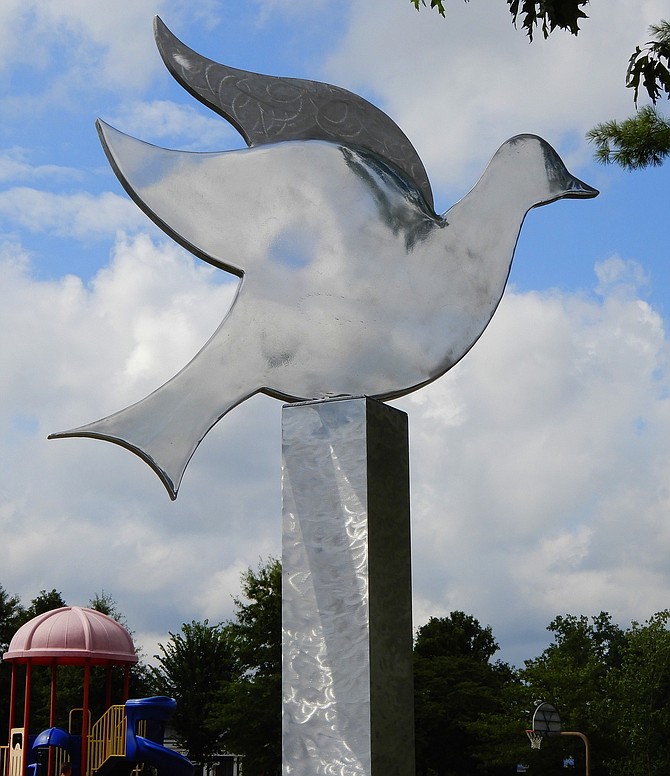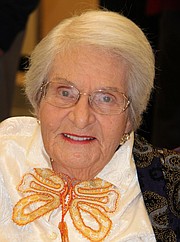 Sky and clouds are reflected in Peace Bird, the 6-foot-tall, brushed-aluminum sculpture flying high in Fairfax City's Van Dyck Park. Designed by New Orleans-based artist Michael Cain, it was placed there in memory of late Fairfax resident Armistice Turtora. It's atop Armistice Turtora Field, next to the memorial bench and plaque describing her six decades of service to the community.
She organized and served as the first president of the City of Fairfax Federation of Citizens Assns. and was a longtime member of Fairfax's Commission on the Arts. Turtora was also the first chairman of Fairfax's Parks and Recreation Board, which she helped establish, and she tirelessly advocated for the purchase and development of parks throughout the City.
When Van Dyck Park was built in the 1960s, she fought to keep its open field – known as "The Bowl" – as a place for unscheduled play and activities. And in June 2016, that spot was officially renamed Armistice Turtora Field in her honor. She died in 2017, a month shy of her 91st birthday.
According to Molly Grimsley, past Commission on the Arts chairman, the Peace Bird's verticality and motion suggest "hope and new experiences," while also bringing "a sense of peace and meditation" to all those who view it.