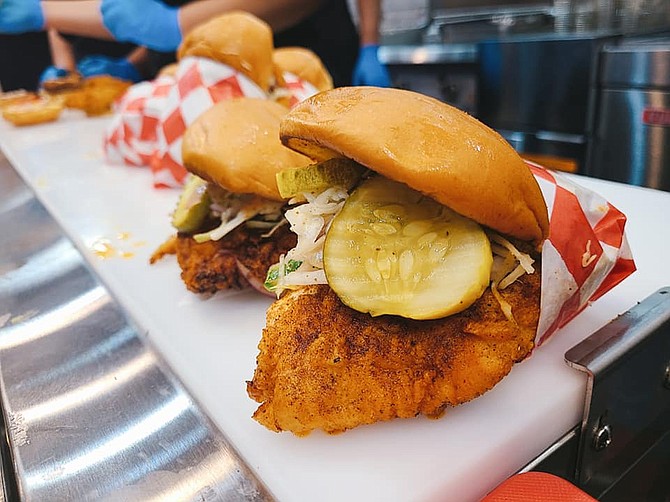 The first thing you need to know about Wooboi Chicken: The restaurant takes its spices seriously.
Don't go in ordering a Code Red – or, for that matter, a Code Blue – unless you are prepared to finish the job and take the heat. And don't assume that a Level Two is your typical medium-spicy. The folks at Wooboi have not come to mess around in the spice department.
"We mean it," said chef-owner Michael Choi, chuckling. "We've made grown adults cry."
With that warning taken to heart, walk into North Old Town's Wooboi, the newest outpost of the Herndon-based flagship, and prepare to feast on hot chicken served in several different ways.
"We have such a simple menu, but that's what we love," Choi said. "Because of our simple menu we can really focus on every little detail, from our chicken to the sources that we get our supplies from to the spice levels to the sauces and slaws and pickles."
Wooboi opened its doors in Old Town on Nov. 2, but the planning phases took place nearly a year earlier, pre-pandemic and in a completely different dining landscape. After losing some time to covid-related construction delays, Wooboi has emerged onto the scene in a bit of a different form than it might have been in the so-called "before times."
"Our menu was actually different pre-covid," Choi said, adding that at least for the moment Wooboi has moved away from the likes of chicken and waffles in favor of more handheld, quick-preparation favorites like sandwiches.
"When people order, we want to give them their order in less than seven minutes. That's why we only focus on sandwiches and tenders here," he said.
But if you've come in with your sights set on another menu item, take heart: There's a mystery lurking around the room.
"We do have a secret menu," Choi said. "A hint for that is the menu is actually written around the restaurant."
Do with this information what you will.
While Wooboi is really a Nashville-inspired hot-chicken restaurant, Choi says a number of customers come in craving Korean-style chicken instead. To accommodate their wishes, Wooboi has come out with a new "Woo sauce," available only in the Old Town location. A little bit spicy and very garlicky, the sauce has the tang from ginger and is finished off with a Korean pepper paste called gochujang.
"Everyone who tries the sauce loves it," he said.
Just don't forget to take the spice levels seriously.
IF YOU GO
Wooboi Chicken, 531 Montgomery St.
Hours: 11 a.m.-9 p.m. Monday-Saturday; closed Sundays.
Hidden gem: The Choi fries. "That's one of our secret menu items," says chef-owner Michael Choi. "It's this really delicious umami bomb of flavor." The secret? French fries are topped with a homemade mambo sauce and honey mustard, along with mozzarella and cheddar cheese. The dish was inspired by Choi's father, who often came into the Herndon store at night hungry and requested fries with all the fixings.
Hope Nelson is the author of "Classic Restaurants of Alexandria" and owns the Kitchen Recessionista blog, located at www.kitchenrecessionista.com. Email her any time at hope@kitchenrecessionista.com.