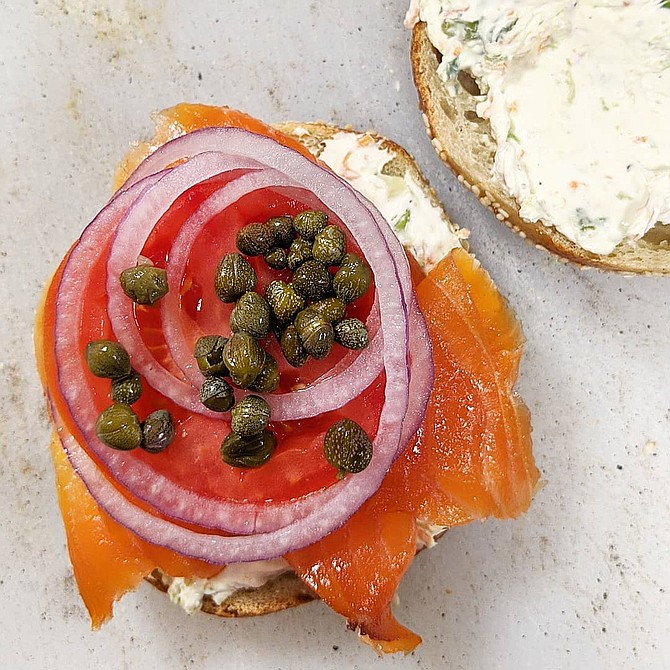 With the latest cold snap behind us, it's time to turn to picnics. On a slow weeknight, for Sunday brunch, or for lazy Saturday afternoons, the weather is ripe and the time is right for outdoor fare. Here are some of the city's best bets for supplies.
Chewish Deli, 807 Pendleton St.
If you're looking for a quick pickup sandwich that's bursting with flavor, make Chewish Deli your first stop en route to your picnic destination. From breakfast sandwiches like a classic egg and cheese or a lox sandwich to more brunchy varieties like the sunrise Reuben or a pastrami and Swiss, the deli's menu is teeming with options. Looking to create your own? Order a half-dozen or baker's dozen worth of bagels and the sky's the limit.
Junction Bakery and Bistro, 1508 Mount Vernon Ave.
Grab an upscale picnic spread at Junction and be the envy of your fellow picnickers at the park. From handhelds to salads to finger foods, the lunch game at Junction is on point for your pickup menu. Take your pick between brisket bowls or brisket sandwiches; go all-in with a Cubano sandwich; add some spicy flair with a turkey banh mi; or get back to basics with a Junction grilled cheese. Order up some General Tso's cauliflower to give your meal an extra boost, and don't forget some fries on the side!
Stomping Ground, 2309 Mount Vernon Ave.
Biscuits and salad: What more could you ask for on a picnic? They go together like cookies and cream (but, um, more savory). Stomping Ground is known for its buttermilk biscuits, which are dressed up in all manner of ways, from a "classic" fried chicken and pimiento cheese sandwich to a "Farmer's Frittata" biscuit sandwich. And what, pray tell, is a picnic without chicken salad? Stomping Ground has your back there, too.
Casa Rosada Artisan Gelato, 111 S. Payne St.
What is a picnic without dessert? And don't worry – with Casa Rosada gelato at hand, you won't have to be concerned about it melting too much, as it will be gone much too quickly for that. In keeping with the sandwich theme, Casa Rosada does offer gelato sandwiches in a variety of flavors, or pick up a pint (or more) with flavors ranging from chocolate and vanilla to arroz con leche and vegan Oreo. What could be sweeter than that?
Hope Nelson is the author of "Classic Restaurants of Alexandria" and owns the Kitchen Recessionista blog, located at www.kitchenrecessionista.com. Email her any time at hope@kitchenrecessionista.com.