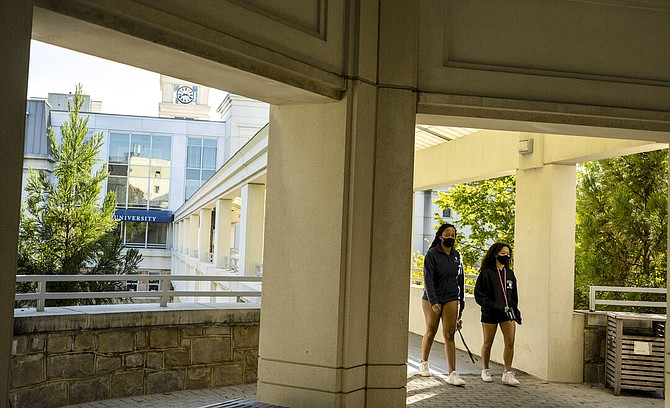 For some students and professors, the loss of in-person contact has disrupted higher education and the experiences that often accompany it.
"I have found that distance learning is riddled with challenges," said senior Sophia Jaimes, a psychology major at Marymount University. "Personally, I am very much a student who learns best when I am in a learning environment with a teacher who I can ask immediate questions to. When I have to use Zoom I find myself often being distracted or, at times, feeling awkward to talk on Zoom since I may not know my peers."

As Marymount and other universities and colleges prepare for all-remote learning after Thanksgiving, students and professors are pondering the ways in which academics will be affected. Linda McKenna Gulyn, Ph.D., a professor of psychology at Marymount, has written a paper that addresses some of the problems that her colleagues and students might be experiencing in the uncharted territory of virtual campuses.
"Colleges and universities are faced with the need to adapt and evolve without a script," said Linda Gulyn, Ph.D., professor of psychology at Marymount University in Arlington. "Hundreds of experienced and highly regarded professors feel like clunky beginners as they redesign and deliver their courses online."
Some professors put undue expectations on students, says Jaimes. "An issue that I have seen recently is where professors and teachers voiced their demands that students have their cameras on during class," she said. "However many students have voiced that they may be uncomfortable doing so and that having cameras on during class is violating their privacy. Professors have said that if students don't respond to their questions, in addition to not having their cameras on, they will kick the student out of the Zoom call."
Dealing with such an obstacle requires mutual trust and awareness, suggests Gulyn. "It's easy to feel suspicious of our students, and I'm pretty sure they can feel the same way," she said. "Pay attention to such messages, because we want our students to feel welcome, accepted and appreciated."
The sudden expectation that one be technologically savvy can cause instructional challenges, particularly in classes where visuals are essential, says Alice E. Petillo, Ph.D., professor of mathematics and Marymount University. "For one session my students could hear me but not see the visuals," she said. "I was not able to hear them as they tried to let me know. Once I realized there was an issue, I apologized and let them know I would post a video recap after class."
Accepting that the current level of distance learning requires an unprecedented set of skills can help quell angst around new expectations, Gulyn advises. "Model poise, problem-solving and self-regulation skills for students to succeed in the workplace," she said. "When I goofed-up my class technology for the 20th time, I gratefully received a solution from one of my freshmen."
"My virtual attendance this semester appears to be higher than my typical face-to-face attendance in previous semesters."
— Alice E. Petillo, Ph.D., Marymount University
While college students might not need parental supervision in the way that an elementary or middle school student does, they can face challenges that are equally as daunting. "I think our students are finding it difficult because they are often juggling a lot of other concerns and commitments at the same time as our classes," said Brian P. Flanagan, Ph.D., professor of theology and religious study at Marymount. "Many of my students are watching other siblings or helping them learn while they themselves are in class."
As a result of distance learning, some students are facing new concerns about a lack of necessary resources. "[They] are struggling with access to technology and the internet," said Michael Mills, Ph.D., Vice President, E-Learning, Innovation and Teaching Excellence at Montgomery College. "While the college has done an exceptional job meeting these needs in terms of financial and technological support, the issues are real for our students."
The quality of instruction delivered by video conferencing platforms is not always equal to that of in-person classes. "I, along with many other friends, have discussed this and feel as though the education we are receiving is below what we could be getting," said Jaimes. "I do want to emphasize, however, that this feeling isn't due to the professors ability to teach, but the stress from having to learn online only without any real connection to your professors or peers."
Such challenges can be addressed through collaboration, says Gulyn. "Pull groups of students together to brainstorm about staying satisfied at our colleges [and] listen to them," she said. "Along the way, they can initiate critical friendships and loving relationships all while taking care to stay healthy."
Instruction by video conference has had some unexpected advantages, notes Flanagan. "I've been really impressed by how committed many of my students have been this semester to their own learning in the face of so many challenges," he said. "Another silver lining is that we've been able to invite colleagues and experts from around the country and world to join us in our [virtual] classroom in a way that was harder to imagine before the pandemic."
Distance learning offers the flexibility of location from which classes can be attended. "Some of my students are able to be more engaged because they don't have to spend time commuting, said Petillo. "My virtual attendance this semester appears to be higher than my typical face-to-face attendance in previous semesters."
Instructors have been forced to gain new skills as a result of distance learning, says Petillo. "I have had to learn new presentation and teaching skills in a compressed time frame," she said. "I am growing in confidence and ability with teaching online. There is more of a personal connection with the class than I had expected."
"I think when we return to our in-person classrooms, we'll both appreciate how much we were able to do online, but also some of the advantages and joys of learning together in person," added Flanagan.