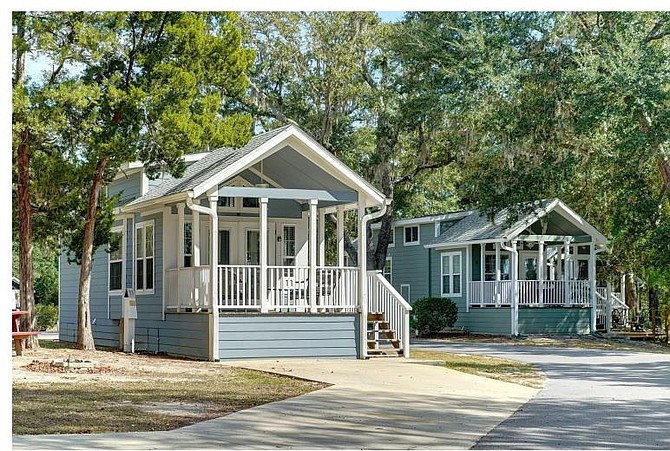 At the latest meeting to save the Engleside and Rays mobile home parks on Richmond Highway, one of the participants introduced a slide of a
trailer park rebuild, where the prefabricated houses were built differently and the neighborhood was set up in a way that did not look like the typical mobile home park. If this could be done in southern Alexandria, it might help the homeowners and planners in this part of Fairfax County.
The upgrades shown here happened to the Sunrise neighborhood in Charlottesville, and they redesigned it without uprooting the residents. Dan Rosensweig, president and CEO at Habitat for Humanity of Greater Charlottesville, called it "The Habitat Model."
This was one idea being looked at by designers and mobile homeowners at the meeting on Nov, 13, but a few questions remained. For one, the land is not owned by the residents even though they own the homes. Another question is money.
Residents mentioned putting their hard work and money into the homes, but the amount they mentioned was $30,000, and when talking real estate in Northern Virginia, that amount might be a down payment, but it is short of what is needed. Some recent sales in the same area reflect the pricey nature of real estate in southern Alexandria. A condo recently went for $212,000 while single family home sales ranged from $464,000 to $930,000.
"Major challenges," Supervisor Dan Storck said of the situation, saying that he is ready to seek all sources, which includes Federal and State funding. "Money is one of the core parts for that," he said. With the Richmond Highway transformation in the plans with EMBARK, "moving us forward in the 21st century, we will leave no one behind," he said.
Del. Paul Krizek (D-44) was looking to improve conditions at Engleside and Rays as well. "I'm open to introducing whatever bill it takes," he said, supporting relocation assistance as well.
A few residents that lived in the parks weren't so sure. They had been there for years, raised children there and created a community. One woman told a story about when her husband was sick and she called on neighbors at 2 a.m. to help, they were there to help her. "It's a community where we feel safe," she said.
Another resident of 14 years talked about the struggles they went through to own the mobile homes, although they do not own the land they are on. "It has not been easy," she said. "We are asking for you to reconsider relocating," she said.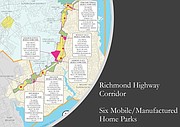 Comprehensive Plan
In the Fairfax County comprehensive plan, "Appendix 10: Guidelines for Mobile Home Retention," is there to preserve some affordable housing in the county. For example, if the land is sold by the owner every effort should be made by the property owner to accommodate the displaced units (pads) on adjacent property if such property exists and can be developed in a manner that does not thwart the achievement of sound land use planning objectives. The land owner would also need to provide funding towards the relocation of displaced residents, it says.
All sides discussed the need to keep housing near employment and transportation, and Storck looked at other options around Fairfax County. "We have a huge need to disperse affordable housing throughout the county," he said.
Elsewhere in Fairfax County, there are two mobile home parks in Lee District, one in Braddock District, and one in Sully District.
The next step for the Engleside and Rays mobile home parks future is the Planning Commission Public hearing on Wednesday, Nov. 18, and then to the Board of Supervisors in December.