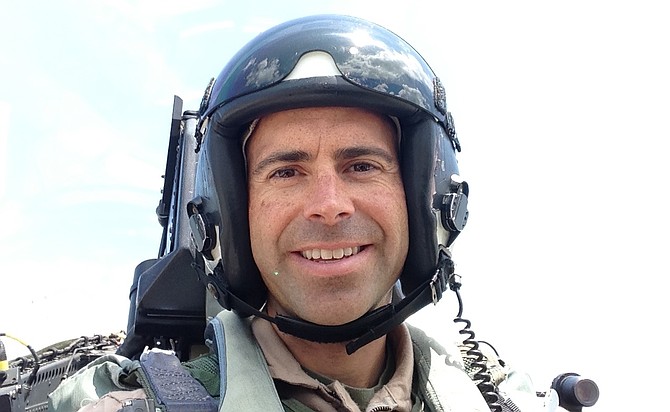 Patrick Moran is in his car headed for Spaceport America, New Mexico. He will assume his new job on Monday as a pilot for the Virgin Galactic team, preparing for commercial space travel.
Moran says the commercial civilian flights are projected to begin in 2021 after a couple more test flights. The program will carry six passengers at a time who have paid $250,000 each for the experience of shooting 50 miles up into space, unbuckling their belts to experience weightlessness and gliding back to earth. When the Spaceship runs out of energy, it comes back to earth. He says the Spaceship doesn't go into orbit.
The trip into space takes about two and a half hours although the trip is preceded by several days of preparation time for the passengers. They have health checks to be sure they are physically capable and their heart can handle an extreme experience. There are several days of classroom training and a simulator experience to let them experience the Gs that they will encounter on the trip. And, of course, a celebration afterwards to share the experience with the family and friends who came to watch.
Moran will join six current pilots already at Virgin Galactic as well as another newly-chosen pilot who will enter the program with him.
Moran says in the beginning he will have a formal and rigorous training and build up. "I won't do the hardest stuff right away." Moran comes to the job after 20 years as a Marine test pilot, an instructor, and the lead government test pilot for the Navy and Marine versions of the F-35 Joint Strike Fighter.
Moran says he retired from the Marine Corps about five years ago. After a couple of years he got back in the cockpit and became excited. He knew he wanted to fly again. "I had to get current, and then I got an offer from United back in December." Then COVID hit, and turned everything upside down. "I was sitting home without a flying job."
Then he saw the advertisement for the Pilot Corps on the Virgin Galactic crew. "I applied in early March and didn't hear anything for several months. "In July I got a call from HR who set up a Zoom interview with a panel of pilots." He said they brought in six candidates and hired two. "I had the credentials they were looking for, both commercial and military flight experience with over 3,000 flight hours in 34 different aircraft.
"They called me back and told me I did great and they wanted to bring me to New Mexico for an interview." He continues, "The interview was awesome. I got to fly an experimental aircraft and pilot a spaceship in a simulator, to look behind the curtain. It was a test pilot amusement park."
Moran says that as part of the pilot training, he will fly the profile in a space simulator, which is a way he can fly simulated parts of flight trajectory for the SpaceShip Two. He will also train to fly the carrier aircraft, VMS Eve. A lot of what he has already learned on earth applies to space travel. He has done training in gliding and in spins. But it will be different when he does the glider training for when the shuttle comes back to earth and "when you push the big red button that goes straight up."
He says, "It will take several years to get into space. There will also be duties on the ground like the mission control, the group who talks to the crew in space."
Moran graduated in engineering from the University of Virginia and says that as part of his duties, he expects to work with the engineering team on different aspects of system design, including risk management, gathering and analyzing data.
Moran says he was always interested in science in high school but he thinks it all began because, "I had an uncle who flew helicopters in the Navy when I was about 9, and I guess that planted a seed." He applied for Naval ROTC at University of Virginia "and when the decision point came, I moved in that direction."
Before college, Moran's family lived in Arlington, where he remembers getting on the bus at the stop near H.B. Woodlawn where he headed to Yorktown High School every school day. He played football at Yorktown where he graduated in 1990. "I remember Bruce Hanson, my football coach. It was his first year there. I think he is still there. And my science teacher Mr. Zeto." Moran says looking back he appreciates "how lucky I was that I went to Yorktown. I have awesome memories, and I had great teachers. They were head and shoulders. They prepared me for success."