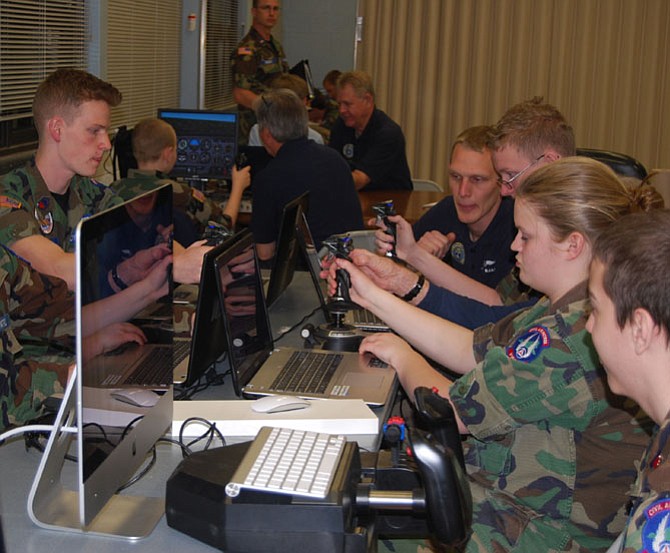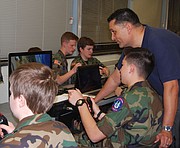 On Tuesday, April 12, Civil Air Patrol (CAP) cadets from the Burke and Prince William Composite Squadrons enjoyed their first steps toward learning to fly. Fifty cadets received instruction on the basic roles of aircrew members, and then took their places at flight simulators. Assisted by adult CAP pilots from both squadrons, the youngsters were enthusiastic about their opportunity to conduct takeoffs and landings using realistic instruments and flight controls.

Cadets rotated through stations learning about the duties of Mission Pilot, Scanner, Observer, Aerial Photographer and Flight Line Marshaling.


The occasion was CAP AeroSpace Night at the Virginia National Guard Armory in Manassas, led by CAP Lt. Jason Bailey, CAP Lt. Col Kimberly Frady and First Sergeant Nathaniel Hatfield, all of Prince William. The Burke Squadron joined forces by providing flight simulators and experienced mission aircrew personnel as instructors, all as part of the CAP's mission to provide aerospace education.
CAP Major Michael Speakmon, Commander of the Burke Squadron, led a discussion of the duties of a Mission Observer who flies in the right seat with vital role of navigation and communicating with other CAP Aircraft and Ground Teams during missions or training exercises.

Major Romeo Ross, operations officer for Burke Squadron, was one of several pilots to teach the cadets about flight using the Microsoft Flight Simulator X STEM Kit provided by Civil Air Patrol National Headquarters. Major Ross is a qualified Mission Pilot in the Civil Air Patrol and has logged hundreds of hours flying as both a general aviation pilot and for the Civil Air Patrol.
Cadet Markus Garretson, Cadet Lars Garretson, Cadet Airman Peter Dang, and Cadet Airman Hannah Dang were four of Burke's cadets to join with cadets from Prince William for the fun of flight simulation.
The Civil Air Patrol is the part-time, all-volunteer auxiliary of the U.S. Air Force. CAP, is part of the USAF Total Force, operates a fleet of 550 aircraft and performs about 90 percent of continental U.S. inland search and rescue missions as tasked by the Air Force Rescue Coordination Center.