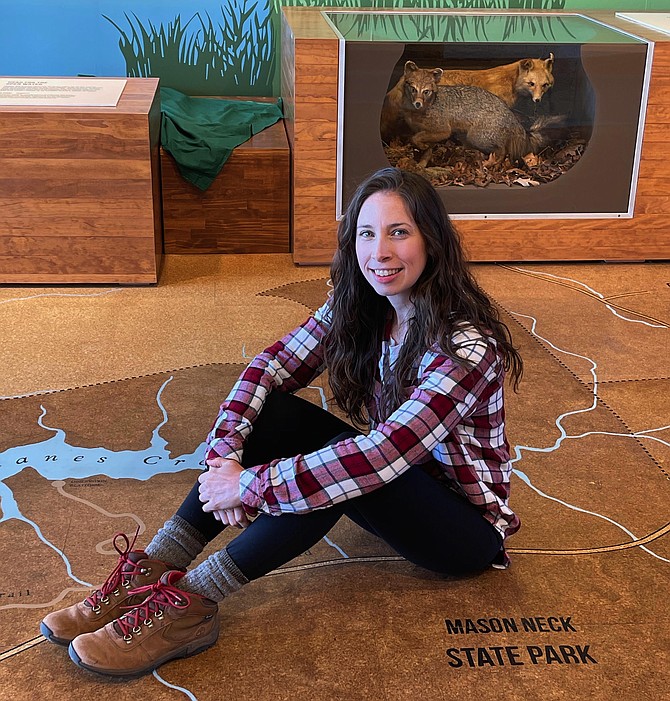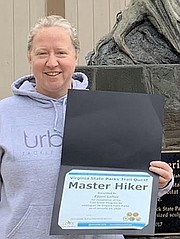 Love our parks and being outdoors? Looking for a fresh air challenge? The Virginia State Park's "Trail Quest Program" could be the adventure for you.
Participants earn levels of recognition by accumulating unique state park visits, leading to the title "Master Hiker," by completing visits to all 39 Virginia state parks. Nancy Heltman, Director of Visitor Services for Virginia's Department of Conservation and Recreation, found "…the program gets people to new places," exploring beyond the nearest park that they might visit often.
Under the "Quest" program, registered participants earn badges after visiting their first, fifth, tenth, and twentieth state park. Completing a visit to all the parks earns the final badge and the designation "Master Hiker." There is no time limit on the amount of time taken to complete visits. A few people have done all visits in the same year, like Eileen Loftus, who visited all 38 parks in 2019. Some, like Jessica Bowser, Kingstowne, have spread visits over a longer period. Jessica completed her final visit, to Holiday Lake State Park, in the Appomattox-Buckingham State Forest, on Nov. 17, about five years after beginning her challenge.
Bowser began her park quest at nearby Mason Neck where eagles are plentiful, and completed her quest hiking around Holiday Lake, enjoying the trail around the lake and being celebrated by park staff. Her favorite park? She acknowledges the difficulty of choosing as they are all different, but names New River Trail State Park in Southwestern VA, for its 57 mile trail along the scenic and historic New River, with tunnels and numerous bridges adding interest. How does it feel to complete the quest? Bowser described feeling bittersweet…elated but a bit sad that the 39 park adventure is finished. She adds, "The good news is that there are more state parks coming…it's not over."
Since the program's inception in 2010, 132 people have attained the "Master Hiker" level. The 43 hikers who completed the program in 2020 was double the 2019 number. Heltman attributes the increase to the "surge of individuals we found enjoying visits to the outdoors."

Those interested in joining the 7,145 registered participants can sign on at https://www.dcr.virginia.gov/state-parks/trail-quest. And perhaps start by planning to OptOutside as an alternative to shopping over the Thanksgiving holiday weekend, when the state parks offer a photo contest sweetener (see https://vasp.fun/2020OptOutside for Nov. 26-29 contest information).