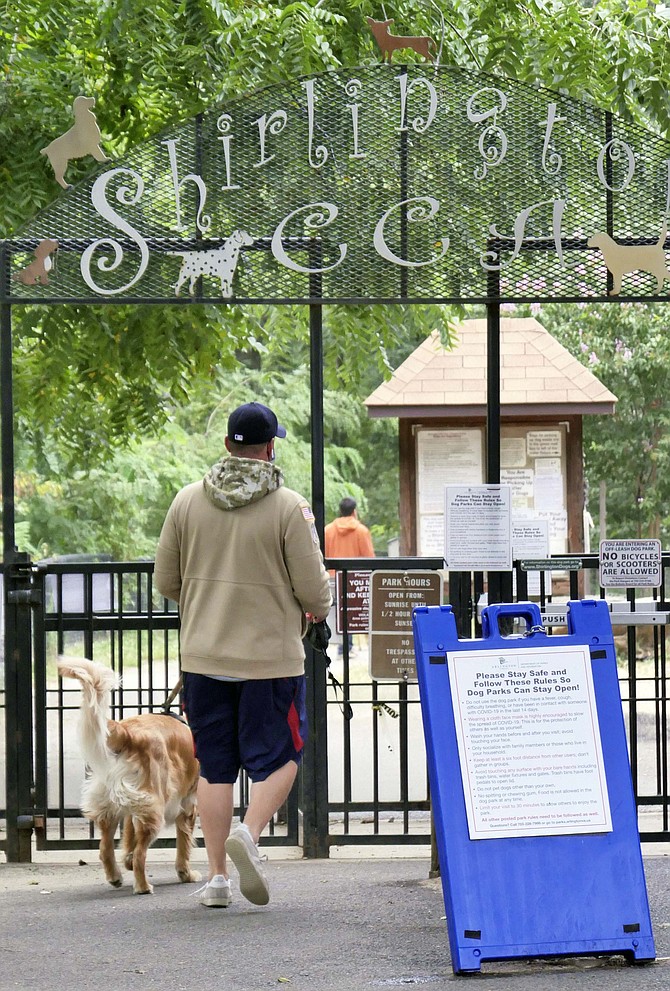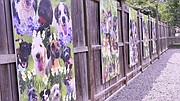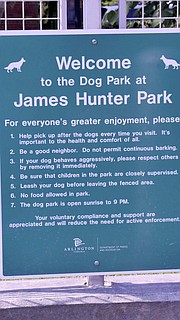 Does Fluffy like grass? Does Charlie like playing with toys and chasing a dusty ball across the lot? Does Bailey like relaxing under a bench in the shade close to the large bowl of water? Does Sam like running down the trail and leaving you in the dust behind?
Arlington has eight sanctioned off-leash dog parks scattered across the county with different facilities to meet the needs of the panoply of personalities possessed by our favorite companions.

Your retriever can quickly become a tan blur as he races the quarter mile trail along the stream at Shirlington Dog Park. The park is located along South Four Mile Run Drive right beside the stream, an attractive nuisance since dog owners are warned about the contamination caused by chemicals that can sicken your favorite companion. If your miniature schnauzer is a little less outgoing, he can stop in the small dog park nearby and cavort with others his own size. Frequent patrons warn it can get crowded, and large unsupervised dogs can get unruly. 2710 S. Oakland Street
If Coco enjoys art, the Ethan Allen dog park offers a romp beside hand painted murals that run the length of the park. There is plenty of room to run while your humans chat on shaded benches located on a platform spotted with fresh bowls of water. This is part of the 15-acre park that includes the Ethan Allen historic site on the National Register of Historic Places 3829 N Stafford Street.
The Utah Dog Park gives your pup an opportunity to share the communal dog toys while listening to the crack of the bat at Little League games during the spring and summer. It is part of the 4-acre Utah Park with a pavilion and picnic tables for humans. 3191 South Utah Street.
Get off work late but Zeus still needs to let off some steam? Towers Dog Park is lighted and open until 10 p.m. It offers a challenge with the wooden obstacle course and plenty of room to exercise but if you are there in the daytime, there is also plenty of shade. This dog park is part of a larger entity with tennis and basketball courts, a picnic pavilion and a sand volleyball court. There is also a small pup park. 801 S. Scott Street.
Rosie may have to sniff out Glencarlyn Dog Park which is a secluded dog park in the woods accessible by a bridge and difficult to find the first time or even the second. It has plenty of trees, rocks and squirrels but not many other dogs, which can be a plus, or minus depending on your dog's personality. This is the only dog park without fences and dogs are allowed to roam without a leash. 301 S. Harrison Street.
Benjamin Banneker Dog Park is currently closed for renovation. When complete it is expected to include synthetic grass, an ADA-accessible entrance and a concrete splash pad for dogs as well as a separate small dog park. It is part of 11-acre Banneker Park. 1680 N. Sycamore Street.
James Hunter Dog Park is located in the middle of a Clarendon neighborhood with limited parking. It offers plenty of room for Max to run on a crushed granite surface but offers no shade. The waterfall feature in the corner is appealing but often not running. 1230 N Hartford.
Fort Barnard Dog Park is just down the road from the usually crowded Shirlington Dog Park and so is relaxed and less crowded. If Oscar likes sniffing the zucchini and asters, he can mosey through the community garden next door. 2060 South Walter Reed Drive.