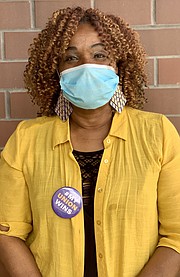 The pandemic is showing just how much we depend on each other -- no matter who we are, where we're from or the color of our skin. Suddenly working people -- including the thousands of workers who keep Fairfax County running -- are front and center because more and more Virginians are realizing just how essential our jobs are to the community.
As Fairfax County employees, we do incredibly important work to keep our communities safe and healthy. We provide health care and mental health services, care for young children, keep our air and water clean, maintain our parks and natural resources, keep our libraries running, and much more.

We are called essential but too often, we're not treated that way when it comes to important decisions about our jobs and the best ways to serve the public. That's why we're glad to see the Board of Supervisors take steps last week to give county employees the right to a real seat at the table -- a process called collective bargaining -- where we can negotiate to improve our jobs and the essential services we provide.
As county employees, we have the frontline expertise to keep Fairfax safe and healthy. Many of us have joined together in our union, SEIU Virginia 512, so we can have a voice in the services we provide and our own working conditions. We've already made a difference for the community, adding needed mental health services, making government more efficient, and ensuring paid family leave to protect working families during the pandemic. Through collective bargaining, we can do even more.
We know what PPE, cleaning supplies, and other protections we need to ensure our own safety and the safety of the people we serve. As our county navigates the impact of the pandemic and how to return to in-person services, collective bargaining will give us a stronger voice and make it easier to keep everyone safe as we reopen. We can bring our ideas and solutions to the table and work with the county to ensure all its employees have safe working conditions, and the pay and benefits we need to care for our own families.
Many of us struggle to make ends meet for our own families with the rising cost of living and ever-increasing healthcare costs. Some county employees have been forced to seek a second job just to pay the bills. One of my coworkers wraps up her county job, puts her children to bed and then heads out to a 4-hour shift stocking shelves as a store clerk until 11 pm. Our county can do better than this for the people who take care of our community.
That's why we're looking forward to working with the county board to discuss how establishing collective bargaining rights can help improve jobs and services for all. We know that working together, we can make Fairfax County a better place to live, work and play, where we protect all workers and where every family can thrive.

Tammie Wondong Ware is Human Service Assistant, Fairfax County Fairfax Chapter President, SEIU Virginia 512