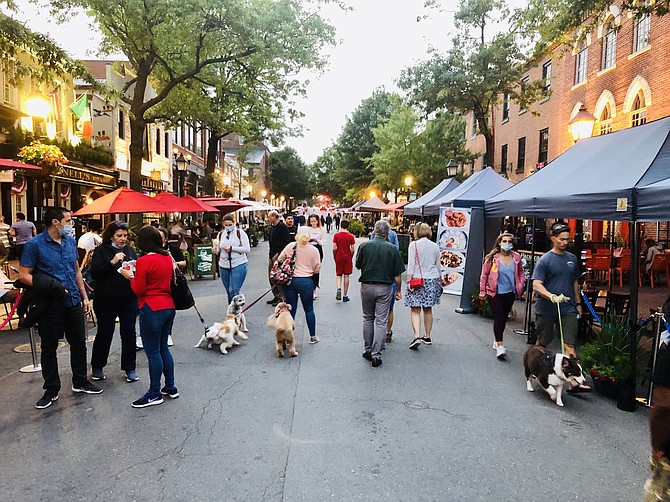 Over the past six months, restaurants across Alexandria have had to get creative in the face of unprecedented challenges. As the COVID-19 pandemic took hold, outdoor dining options have become more important than ever; while some eateries are old pros on the topic, some have had to switch up their plans – and fast. Here are nine restaurants who are getting it right.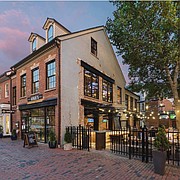 Augie's, 1106 King St.
Mussels a million ways. A hefty menu of beers to choose from. Add in the top sports matchups of the day and what do you have? The side patio at Augie's. The staff has plenty of practice catering to outdoor diners; the patio opened well before the restaurant inside made its debut. Have a seat, lift a glass and breathe in the fall air.
Caphe Banh Mi, 407 Cameron St.
Situated as it is on Cameron Street, Caphe Banh Mi's outdoor tables are perfectly positioned to watch the world go by. Order up a piping-hot bowl of pho, a noodle or rice dish, or a banh mi sandwich and take in the socially distanced landscape around you.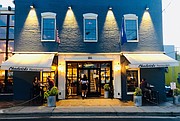 Chadwicks, 203 Strand St.
The all-American restaurant on The Strand has spread its wings from its normal outdoor table format. As well as keeping several tables close to the front door, Chadwicks has also expanded its reach to the sidewalk across the street, adding several more tables with plenty of distance. From burgers to weekend brunch, Chadwicks' menu is extensive and caters to nearly every palate.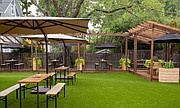 The Front Porch, 2000 Mount Vernon Ave.
The outdoor beer garden that's been a longtime extension of Evening Star Cafe has now taken center stage in this age of pandemic. Its footprint has extended to the "back yard," as well, and its menu, too, has expanded to accommodate those who are popping in for more than just a quick sip.
The Garden, 1503 Mount Vernon Ave.
On the edge of Del Ray, The Garden is an oasis in the middle of crazy times. Make a reservation for a table and enjoy the wide-open space to sip on a beer or two, have a taco, sausage or salad, and take a deep breath. (And you don't want to miss the beignets that appear like magic on weekend mornings.)
100 block of King Street
Looking for an outdoor spot in the middle of all the action? The city government didn't close the 100 block of King Street off to car traffic for nothing. There's a veritable socially distant party going on in that block, which encapsulates Mia's, the Fish Market, Landini Brothers, the Wharf, two ice cream shops and more.
Lost Dog Café, 808 N. Henry St.
One of the city's hidden gems, Lost Dog Café's patio is in a tucked-away spot adjacent to the restaurant, off the beaten path and away from most foot and all car traffic. From the patio, order up more than a dozen beers on draft, and pair your brew with a pizza, sandwich, salad or pasta dish. You'll certainly want an order of "dog collars" – onion rings – to share at the table as well, so go ahead and put it on the list.
Taverna Cretekou, 818 King St.
To sit on the back patio of Taverna Cretekou is to transport yourself to a little spot along the Mediterranean. As music plays softly and waitstaff bustles about, take a deep breath in and relax. A glass of Greek wine, a plate of hummus and pita bread to start the proceedings … the world is your oyster. https://www.restaurantji.com/va/alexandria/taverna-cretekou-/
Yunnan by Potomac, 814 N. Fairfax St.
Yunnan by Potomac offers a wide array of noodle and mixian dishes from the Yunnan province of China. Pull up a chair in the restaurant's new outdoor dining space in front of the building and let the menu take you to another land.
Hope Nelson is the author of "Classic Restaurants of Alexandria" and owns the Kitchen Recessionista blog, located at www.kitchenrecessionista.com. Email her any time at hope@kitchenrecessionista.com.