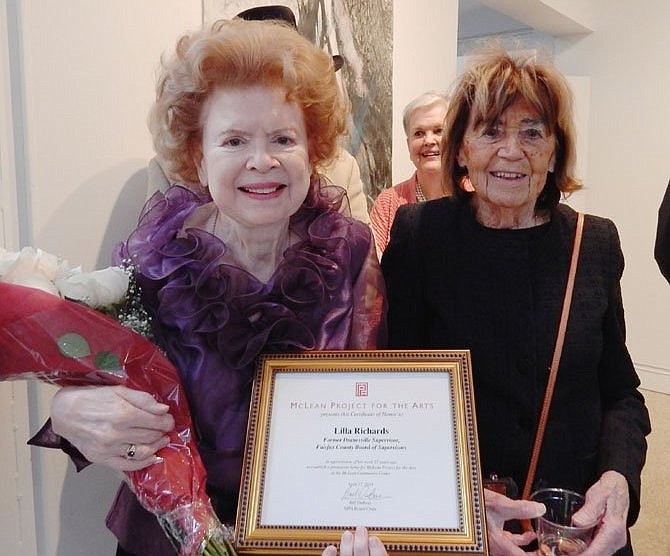 Long-term McLean resident and two-term Dranesville District Supervisor (1988-91) Lilla McCutchen Richards, 81, died on Sept. 22 of congestive heart failure at The Jefferson, a retirement community in Arlington. Renowned for her activism, Richards joined the Fairfax County Board of Supervisors running as a Democrat in a close, contentious, three-way race in 1988. Richards defeated incumbent Nancy Falck (R) and challenger Robert Thoburn, winning 43 percent of the vote as a newcomer. She was re-elected for a second two-year term that ended Dec. 31, 1991, when the electorate turned on the slow-growth policies of the Democrats. Considered an authority on the County's zoning laws, Richards took on difficult land-use issues, challenging developers and supporting the slow-growth movement.
As a supervisor, Richards represented constituents in McLean, Tysons, Great Falls and Herndon and was a community leader. "She was refreshingly outspoken in her opinions and always followed her conscience," said Fairfax County Board of Supervisors Chairman Jeffrey McKay." "While her service on the Board was short, her accomplishments continue to affect residents of McLean. The McLean Project for the Arts, established in 1962, spent many years looking for a permanent home. When she became Supervisor, Lilla worked with the MPA and the McLean Community Center. She forged the County's first public/private partnership. Today, MPA plays a huge role in McLean with three galleries and an art studio and offers classes to children and adults in the McLean Community Center," he said.
"She was an effective, no-nonsense leader who was always willing to take political risks to do what she believed was right."
—Supervisor John Foust (D-Dranesville)
According to a story published by INSIDE, at the 25th anniversary of the Old Firehouse Teen Center in McLean in 2015, Richards said she considered the Center to be among her proudest achievements while in office. At that time, she recalled the Center's first hurdle was to ensure that the Board of Supervisors did not sell off the former home of the McLean Volunteer Fire Department. She opposed moving the Teen Center to McLean Community Center, saying it would be a mistake. "Teens want to be where the action is. They want to be near the McDonalds, the drugstores and the coffee," she is quoted as saying in the Connection. Today, the Old Firehouse Teen Center is operated by the McLean Community Center and offers programs for McLean teens as well as for seniors.
Richards loved McLean and made many lasting contributions that improved the community's quality of life. "She was an effective, no-nonsense leader who was always willing to take political risks to do what she believed was right," said Supervisor John Foust (D-Dranesville). "No matter what Lilla did for our community, she did it competently, unselfishly and with passion," he said.
With a grant from the McLean Community Foundation, which Richards helped establish, community leaders compiled her volumes of material into the Lilla Richards Collection, an archived collection at Fairfax Library's Virginia Room with its catalog accessible from Dolley Madison Library in McLean.
Born in the District, Richards grew up in Arlington but had roots at the University of South Carolina. She spent her childhood summers on the university campus visiting her grandparents, Lilla Johnstone McCutchen and George McCutchen, an economics professor at the university. They lived in what is now known as the McCutchen House. Richards returned to the University of South Carolina in Columbia, where she received a degree in English and history in 1961. She became a writer and editor with the Economic Research Service. In 1984, Richards and her sisters established The James Malcolm McCutchen Electrical Engineering Scholarship to honor their father. It remains in place today in the College of Engineering and Computing.
Richards gave freely of her time to civic and community affairs in McLean and Fairfax County. She served as past president of the County Federation of Citizens Associations and member of the National Capitol Region Transportation Planning Board.
She is preceded in death by her former husband, Stanley I. Richards. The couple had no children. Richards will be buried later at Pleasant Grove Church in McLean.