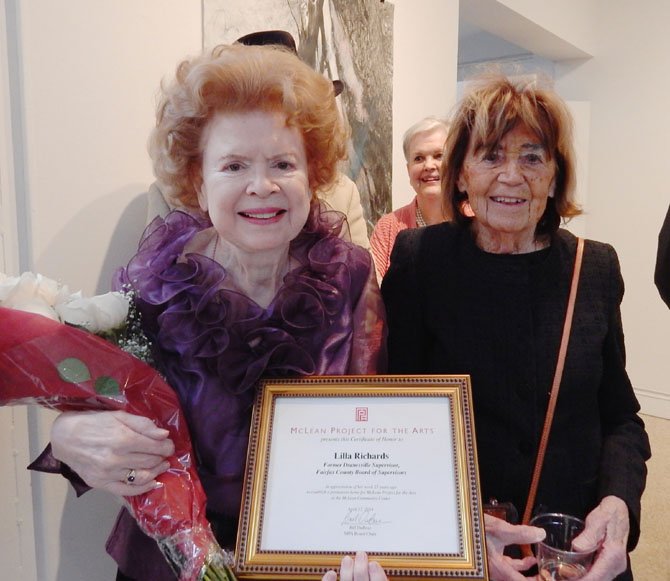 On April 17, McLean Project for the Arts (MPA) held a reception in honor of former Fairfax County Supervisor Lilla Richards on her 75th birthday for her work 25 years ago to find a permanent home for MPA at the McLean Community Center.
With Richards' help, McLean Project for the Arts, the McLean Community Center and Fairfax County entered into the first public/private partnership in the arts for Fairfax County. MPA, founded in 1962, moved seven times from one temporary residence to another. In 1987, leaders of MPA and the MCC began discussions with the county to bring MPA to the center. Lilla Richards was elected Supervisor in November 1987 and began immediately working with MPA to bring this project to fruition.
Today, MPA resides at the center with three galleries and the Susan B. DuVal Art studio. McLean Project for the Arts is a non-profit visual arts center founded in 1962 to exhibit the work of emerging and established regional artists. In addition to its program of high quality, professionally-curated art exhibitions, MPA offers art classes for children and adults taught by professional art instructors. MPA also presents the Art Reach program for area schools, gallery talks, and day trips to area museums and galleries. MPA is a partner with the Virginia Museum of Fine Arts and Fairfax County Public Schools.
McLean Project for the Arts is in residence in the McLean Community Center at 1234 Ingleside Avenue, McLean.