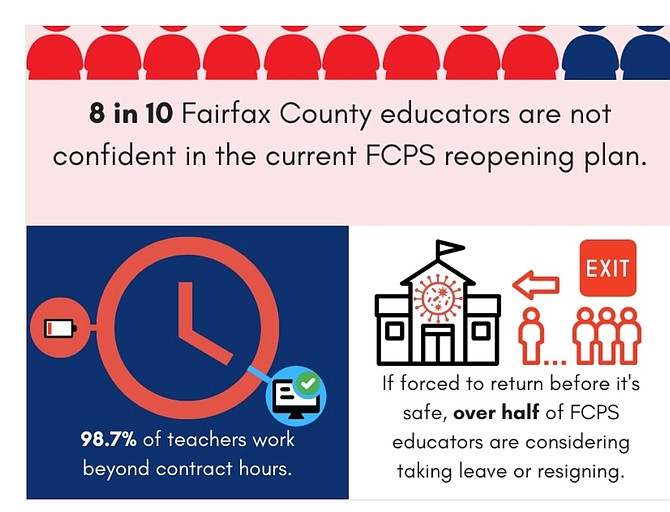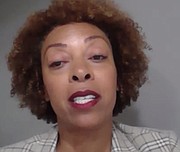 Staff at Fairfax County Public Schools (FCPS) are overwhelmingly uncomfortable with returning for in-person instruction, given the incomplete information about the implementation that has been currently shared, according to a report released by the Fairfax County Federation of Teachers (FCFT) on Oct. 6 during a press conference. The report, representing 1,332 responses, detailed members' feelings about the current reopening plan, workload experiences, planning time and well-being during week two of school year 2020-2021. The release came thirty minutes before some FCPS staff had to notify Schools' Human Resource Department of their intention to return to in-person instruction, take leave or resign.
"We're standing to lose a lot of staff members, if their hand is forced in this way," said Emily VanDerhoff, FCFT Executive Board Member and First-grade Teacher at Hunt Valley Elementary School.
With the results of the survey made public, David Walrod, FCFT Executive Board member and Special Education Teacher at Lake Braddock Secondary School in Burke, said, "I want to take a second just to highlight the importance of communication... No matter where we stand in the current opening, communication has been where FCPS has really fallen short."
"Due to the circumstances and the overwhelming consensus of our membership, we are urging FCPS to delay reopening until there is a clear plan in place to keep everyone safe, and the district adopts our 11 Pillars of a Safe Reopening," said Tina Williams, FCFT President, during the press conference. According to Walrod, the pillars outlined measures to protect students, staff and families. "Unfortunately, a number of these measures have not yet been adopted by FCPS," he said.

According to FCFT.org, based on the survey findings it urged FCPS to:
Address the lack of planning time,

Honor all staff ADA accommodation requests to work 100 percent virtually and

Postpone opening of school buildings for in-person instruction until it has well-documented numerical metrics supporting the decision and FCPS can confirm that all of the safety guidelines laid out in FCFT's 11 Pillars of a Safe Reopening are met.
FCFT represents education professionals and is affiliated with the American Federation of Teachers and AFL-CIO.
FCFT's 11 Pillars of a Safe Reopening
1) Clear transparent communication
2) A Virtual Work Option for All Staff
3) Physical Distancing
4) Cleaning and Disinfecting Protocols
5) Adequate School Ventilation and Building Systems
6) Personal Protective Equipment and Face Coverings for all students and staff
7) Rigorous Tracking and Tracing
8) Controlled Community Transmission
9) Comprehensive Staff and Student Supports
10) Compliance
11) Proactive School Closures
Highlights of FCFT's Surveys
85.7 percent of respondents were not confident in the current reopening plan; 9.7 percent felt safe returning.

52.9 percent of respondents considered whether to take a leave of absence or resign if asked to return to work in person.

Respondents cited unsafe workplaces, incomplete information, poor communication, and lack of transparency as reasons.

98.7 percent of teachers and 65.5 percent of support staff worked beyond contract hours in the second week of school.

22.7 percent of teachers and 9 percent of support staff reported working more than 20 hours per week outside of contract hours.

Almost half of the teachers have less than the minimum planning time required by the county.

Over 80 percent of teachers and a majority of staff report that workload impacts their sleep, physical health, and mental health.