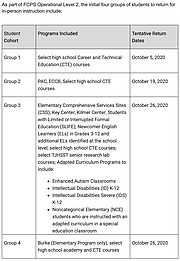 Tia Williams is an instructional assistant with diabetes and severe asthma at Fairfax County Public Schools (FCPS). Choosing the box she checks Tuesday, Oct. 6, stating her intent whether to return to school for in-person learning or not, is an agonizing decision to make. Williams comes from a family of people with diabetes and asthma. Six cousins and four uncles are dead from COVID. "I want to continue to work (and teach), but I also don't want to bring (the) virus home to my family. When I talked to HR about my ADA application, they told me that I wasn't approved because my principal said that none of the kids were going to be virtual, so I needed to return. I do not feel like I have a choice. It is either my health or my job." Williams is one of 653 teachers and support staff who must decide whether to return to in-person work in the school system this October, take a leave of absence, or resign. She works with deaf and hard of hearing students.
Fairfax County School Board voted their approval at a September 22 Board Meeting to decouple school reopening plans from staffing decisions and bring small cohorts of students and their teachers to school sites for in-person instruction. The division's Department of Human Resources, under the signature of Sean McDonald, Interim Assistant Superintendent, sent an email to those staff members on Sept. 30 asking their teaching intent.
THE COHORTS included career and technical education classes, preschool autism classes, English language learners and other special education students, such as deaf and hard of hearing students who Williams supports.
"These students represent 3.5 percent of the total student population and 653 teachers and other instructional staff... needed to provide instruction to these students," said an FCPS spokesperson.
While the percentage appeared small, Becca Ferrick, President of the Association of Fairfax Professional Educators, said they were concerned for the future of FCPS. Based on the numbers FCPS shared, there were not enough employees prepared to return to in-person instruction to meet the staffing needs outlined. "By forcing the return, we may see that the issue becomes one of simply not having enough employees on the payroll anymore in order to meet those staffing needs...These employees will almost certainly be asked to ignore both scientific advice and their own ethical principles," she said.
A copy of an email signed by McDonald dated Sept. 30 and obtained by the Connection read in part: "As we plan for student cohort groups to return for in-person learning, you have been identified as a staff member who works with one of the groups identified...There is a possibility based on student need that you will be asked to return to in-person instruction by your principal." In closing, the correspondence said, "Submit your response no later than 4:30 p.m. on Friday, October 2."
Human Resources provided a five-option plan to staff:
Return to support in-person instruction,
Submit an accommodation request under the Americans with Disabilities Act (ADA),
Take an unpaid Leave of Absence (LOA) for the school year's balance if approved by the School Board,
Access leave under the FFCRA for childcare reasons and then return to support in-person instruction and
Resign or retire.
Upon learning of the email, Tina Williams, President, Fairfax County Federation of Teachers, AFT Local 2401, said in a statement to union members: "I was shocked to find out the FCPS gave hundreds of staff less than 48 hours to make a decision... This isn't a decision that can be made lightly since the district has not been transparent in its safety mechanisms, and the plans they have shown fall short of what we need." She urged members to mobilize and send a message to school board members, school leadership and Superintendent Scott Brabrand.
Tamara Derenak Kaufax is the Lee District Representative on the Fairfax County School Board. She said, "The Board and I were unaware that the letter was sent. I became aware as I began receiving letters from concerned teachers. I have asked for an explanation from our Superintendent regarding the timeline…I will work with my colleagues, our Superintendent, and his team to ensure that future communication comes without surprises and is supportive of the caring culture that FCPS strives to maintain."
ACCORDING TO A SPOKESPERSON for FCPS, due to feedback from some staff members about the short timeframe to declare their intent on returning to school buildings, recipients of the initial communication received a second one on Thursday, Oct. 1. It extended the timeframe to respond to Tuesday, Oct. 6, at 4:30 p.m. In his second email to staff, McDonald said that the survey data would help inform the next steps needed for staffing. "Your response to the survey is not binding; however, your principal and/or HR will follow up with you regarding your intention," he said.
Melanie Meren, Fairfax County School Board, Hunter Mill District said on Facebook, "FCPS has received over 2,000 staff requests for accommodations under the American with Disabilities Act (ADA) – an 8,000 percent increase from last year. Meaning they seek to be on leave. Meaning they won't be available to teach."
A spokesperson for Fairfax County Public Schools said, "FCPS regrets anxiety felt by these staff members. This has been a tremendously difficult period, and our staff have all worked hard to remain connected to their students and schools. We realize the hardships and sacrifices made by our staff and sincerely empathize with them."
Roza Qaradaghi is a Special Education Instructional Assistant at Westfield High School. "I just found that I'm pregnant. My doctor has advised against returning to in-person instruction given the ongoing pandemic. I need my wishes to be respected and to be given a virtual option.. My classes are going so well virtually I'm frankly confused why we have to return to in person instruction right now given the risks."