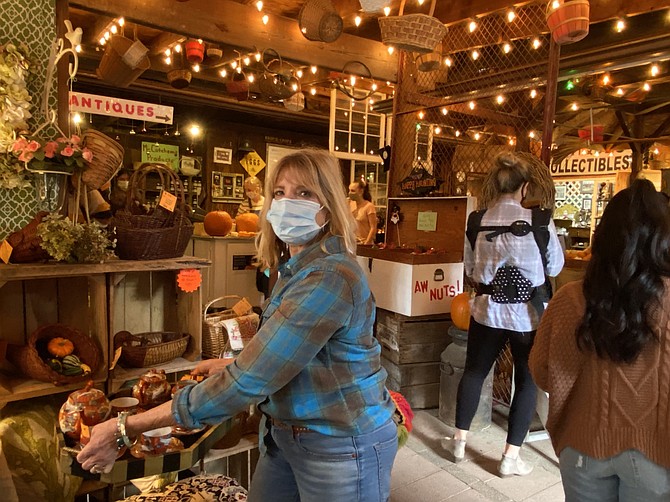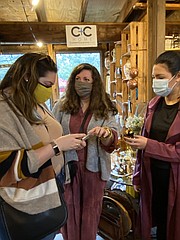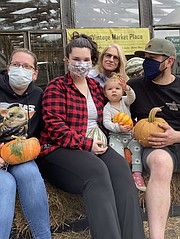 Krop's Crops in Great Falls is knee-deep into October Fall Festivities and preparing to host the Outdoor Vintage Market on Saturday, November 7, from 10 a.m. to 4 p.m. Local legend Larry Krop, owner and operator of the family-owned business affectionately known as Krop's, couldn't be happier. Asked what he planned next, Krop, known to be a man of few words, said simply, "Keep alive." Switching topics, Krop described how much he liked his farm now compared to how it was when it opened in 1968. "One hundred times more. I started many years ago selling produce, then Halloween (fall fun), hayrides and campfires. It eventually turned into what it is now, with the addition of vintage and antiques." Krop added that the "small-town feel" fitted perfectly. "I don't need to be the biggest destination, just like seeing the people come here with their families and being happy."
On Saturday, Oct. 10, families loaded pumpkins and their young children onto steel tray wagon carts, stocked up on chrysanthemums in bloom to brighten their yards, the local honey and the artisan-crafted fall and Halloween decorations for sale. If that wasn't enough, hayrides out to the pumpkin patch to pick out the perfect carving pumpkin or use as a decoration beckoned.
For the Null family, it was a Deja Vu moment. Eugene Null had returned once again to the farm, but this time with his wife Cindy and baby Caroline. "My mom brought me as a kid, and now I'm bringing my daughter...Here at Krop's we can find pumpkins, meet the goats (there are sheep this year), get some apple butter and more," he said.
Krop's is not just for families with little tykes. Susana Gutierrez of Vienna and Elisa Leehan of Arlington came with a morning of fun and a single, purposeful purchase in mind. "We wanted to get pumpkins," said Leehan, but instead of being outdoors, they were scouting out the indoor Vintage Market Place, the flea-market, shabby chic center located in the 40-year-old barn on the property. Guitierrez added, "We hope to come on Nov. 7 for the Krop's Outdoor Vintage Market." The indoor market also featured Winchester apples, fresh-pressed apple cider, local honey, squash, gourds and more.
Krop's is located at 11110 Georgetown Pike, Great Falls. It is open for the season 10 a.m. to 6 p.m. daily. The one-day only, Outdoor Vintage Market on Saturday, Nov. 7, runs from 10 a.m. to 4 p.m. with a rain date of Saturday, Nov. 14. The event will spotlight twenty vendors selling unusual finds at great prices from "fun and funky to farmhouse and fabulous," according to vendor Mary Burnette.