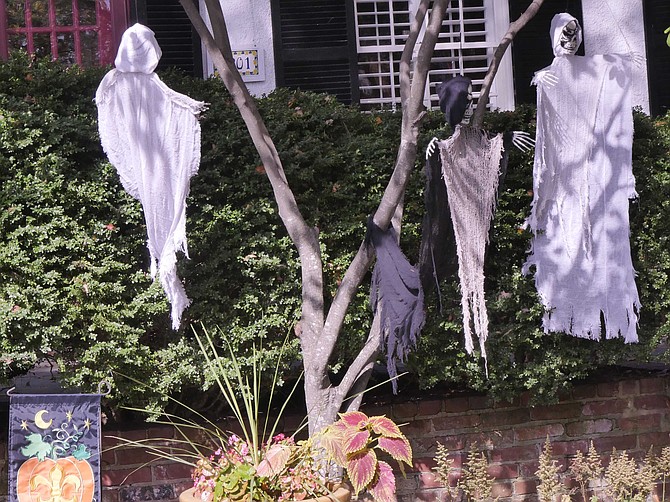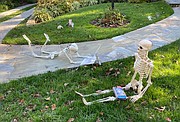 Halloween is an official holiday, but is not regulated by the County. However, Arlington County has issued suggestions on high-risk activities to avoid. This includes traditional trick-or-treating where treats are handed to children who go door to door, events with large gatherings like costume parties, hayrides with people who are not in your household or crowded haunted houses where people may be close together and screaming, which can spread droplets.
If you do go trick-or-treating, be sure to wear a cloth mask (costume masks are not a replacement) and physical distance at least six feet from others. Wash your hands before going trick-or-treating. If handing out candy, set up a table in the yard and space out treats so multiple people don't reach into the same bowl and so that you aren't touching the treats while handing them out.
But Halloween doesn't have to be a disappointment. There are a number of creative ways to celebrate while still protecting yourself and others.
Have an outdoor scavenger hunt around your yard or walk down the block. Make a list of Halloween-related items for children to check off: witch, pumpkin, spider, eyeball, broom, monster, ghost, black cat. When you return home, count the number of items they found and offer a choice of treat from a tray for each item they found.
Carve a pumpkin or two. Maybe establish a theme. Put your pumpkins on your porch or steps or in your window for passersby or those other kids doing a scavenger hunt to check off.
Dress up in your Frankenstein or princess costume (use last year's) and take a walk around the neighborhood to see what creative imaginations have produced this year in people's yards when they have more time at home to decorate. Or if you want to explore further, drive around instead and count how many pumpkins or ghosts you see.
Design your own front yard or window display. Have craft time to make bats that can fly from the gutters, spiders that can crawl on the windows and pumpkins that can line your porch railing.
Bake Halloween cookies. Use pumpkin, witch or bat cookie cutters if you have them, or if not, use a glass to make round shapes which will look just like a pumpkin when you cover them with orange frosting. Make icing out of 2 Tbls. melted butter, 2 cups powdered sugar and enough milk to get the right consistency. Add 2 drops red, 1 drop yellow food coloring for orange; leave a little frosting to add green food coloring for the stem. Or buy cans or tubes of frosting in the bakery aisle.
Bake Halloween pumpkin cupcakes using a can of pumpkin puree or use yellow cake mix and decorate to look like a pumpkin. Wrap each in plastic wrap and tie at the top with a green ribbon if you want to give away.
A popular pastime, particularly relevant for our times, is the "you've been boo'ed." Prepare a small basket or box with Halloween treats including your cookies, cupcakes, small candy bars, paraffin vampire lips, light-up pumpkin necklace or stickers, or whatever your imagination conjures up. Deliver contact-free to your friends or relatives. Ring the doorbell and then disappear behind a tree. Watch their expression as they guess who left them the surprise.
Have a scavenger hunt around the inside of the house with treats hidden all over in surprising places.

Take a picture of your children in their costumes and/or your yard and send to the grandparents and cousins who will be long distance this year.
Have a virtual Halloween costume contest with cousins, friends, neighbors or classmates on Zoom.
Hold a scary movie night with your family.
Arlingtonians who do choose to offer treats have invented new ways to participate while still staying safe. A number of families report they will be offering candy which they have sealed in bags days ahead of time while wearing gloves in order to allow any virus time to disappear. They plan to chalk six foot social distancing guidelines on the sidewalk to keep children apart.
A resident of Franklin Park reports they will hold a daytime parade and hand out candy. Others are building candy chutes out of pipe material using patterns from the internet to funnel treats downward from their porch or upstairs window to tiny hands on the sidewalk. Some families report planned yard parties where the neighborhood will put tables at the end of driveways so they can socialize across the yards. Another reports a glow-in-the-dark egg hunt.
Whatever you do, stay safe.