Southern Fairfax County is moving closer to being an alpine ski destination, as the "Fairfax Peak," indoor ski slope moves closer to fruition.

Officials want more time for public comment, so on Oct. 6, the Board of Supervisors deferred the decision on the proposed Interim Agreement "to allow the developer, Alpine X, to advance its due diligence for the Fairfax Peak to allow an additional 30 days of public comment."
This agreement is an interim step in a years-long process that will entail future public engagement opportunities at several levels. Public comment is now open until Nov. 17.
Supervisor Dan Storck (D-Mount Vernon) is including this extension in his newsletter that goes out to 7,000 households so they will have a chance to weigh in on the plans. At Alpine X, John Emery is doing much of the same. "We plan to conduct outreach in the coming weeks via email to gather constructive input for this initial phase, and invite leaders and residents in the meantime to share their free-form thoughts via our contact page here: https://alpine-x.com/contact/. We will be engaged in media discussions once we have solidified project updates to communicate moving forward," Emery said.
Ski Local
The whole thing is being planned to be built on the mountain of trash at the Lorton Landfill, right off I-95 in the southern part of Fairfax County. The ski facility plans may include multiple slopes for skiing and snowboarding with a variety of ramps, jumps, rails, boxes and other features, capable for use in national snowboarding and freestyle skiing competitions.
At the top of the 20-degree slope there would be restaurants, a ski shop and sky bar. A 100-plus room luxury hotel would be at the base of the indoor snow facility. The "peak" would be connected to Occoquan Regional Park by a gravity-powered, mountain coaster that would slide from the summit to the park. A gondola would ferry riders from Occoquan Regional Park and the facility's base to the summit, where Fairfax Peak sky terrace could be built, one plan states.
The proposal also envisions other amenities that could be added in the future, including a water park, a "gravity ropes course" and passive recreation areas. SnowWorld has signed a confidential agreement with the Northern Virginia Regional Park Authority to possibly operate or own some of these facilities.
Fairfax Peak would be built as a public-private partnership, so the county would lease its land to Alpine-X, and the company would build, own and operate its facility. This lease would be negotiated separately if the proposal is ultimately accepted.
SnowWorld USA is affiliated with SnowWorld International. There is a separate facility overseas in the Middle East called "Ski Dubai," that is similar to the one they are proposing in Lorton.
A number of letters of support have been included with this filing, it said on the report. In addition to those letters, support has been expressed by the following entities: NOVA Parks, Visit Fairfax, Fairfax County Economic Development Authority, South County Federation, and the Workhouse Arts Center.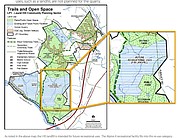 Regional Tourism
The Lorton area has seen nothing like it and this would add to a blossoming mix of tourist attractions planned for southern Fairfax County, starting with the opening of the National Museum of the United States Army, planned for next month on Veterans Day. The facility would complement the existing equestrian center, Laurel Hill Golf Course, Workhouse Arts Center and the mountain bike course at Occoquan.
Besides strengthening Laurel Hill as a recreational destination, Fairfax Peak would allow local schools to add ski teams. Alpine-X proposes making its facility available to law enforcement and military for cold-weather and snow training, the report said.
Fairfax Peak plans to incorporate green and energy efficient technologies in its buildings. For example, the company says it would collaborate with Covanta's private waste-to-energy plant to capture and reuse steam; reuse gray water and use solar energy. The facility also would open its doors to local colleges and universities that wish to test new environmental technologies.
If Alpine-X's proposal is accepted, the company projects that it could complete the project's first phase in 36 to 48 months. Alpine-X LLC is a Virginia-based holding company whose mission is to develop family-centric active lifestyle communities and experience-based sports entertainment venues throughout the United States, their website states.
This isn't the first time a county landfill has turned into something useful. At Hilltop, along Telegraph Road in Fairfax County, a landfill there was turned into a golf course for many years, before finally becoming The Crest of Alexandria, a development of homes and condominiums.
Comments can be submitted by Nov. 17 to clerktothebos@fairfaxcounty.gov