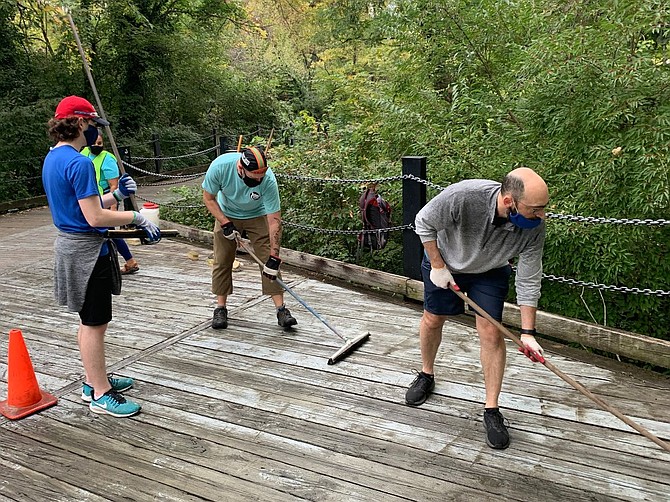 As the biking weather comes to a close, the wear and tear on the Mount Vernon Trail from a busy summer is being addressed by the Friends of the Mount Vernon Trail group who have embarked on a few sections north of Reagan National Airport to repair and restore. Armed with hammer, nails and scrub brushes, the group is fixing loose deck boards, cleaning out gunk that's amassed under the raised portions, and replacing the non-skid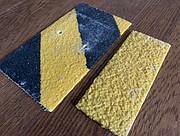 surface coverings to make it better for everyone.
There are several "volunteer events," planned through the rest of this year in areas that need it near Theodore Roosevelt Island. This area was identified as an issue in the Theodore Roosevelt Island Area Study and the Mount Vernon Trail Corridor Study, the Friends reported.
"This was chosen as a focus area based on multiple reports by trail users of crashes during wet conditions," said Judd Isbell, President of the Friends of Mount Vernon Trail.
They are starting at the Trollheim Bridge which is officially called Bridge 31 on the trail map, and it is the wooden bridge next to Theodore Roosevelt Island. This has been the site of multiple crashes due to slippery and uneven surfaces, caused by the build-up of gunk that seeps up between the boards. Rotting leaves are one of the sources of this gunk.
Following the gunk removal event on Oct. 31, the group is moving on to the loose and rotting deck boards, and then applying an anti-skid treatment to the main crash site at Trollheim. They are raising funds and evaluating different materials. The treatment will be a heavy-duty material that can withstand heavy use and year-round weather conditions.
The Friends group has been working with the National Park Service to coordinate these tasks. "Any activity that the Friends of Mount Vernon Trail perform is at the permission and in coordination with NPS," said Isbell. "NPS has been a fantastic partner in identifying mutual goals for the trail and providing technical expertise and tools to support our activities," he added.
Although most of the Friends members have some skills, volunteers don't need a high level of carpentry experience. Isbell has put in much time renovating homes so he's gotten experience with construction, but added that "we try to keep tasks in all of our events simple enough that a complete novice can do it with just a few minutes of instruction. Our events involving repairing bridge decking will mostly involve removing nails and screws, using pry bars to lift boards and using drills to reattach boards," he said.
Using trail use data, they select times of lower traffic to do the repairs, and set up work zones with signs and traffic cones to let the riders know there is work going on. Using caution through the zones is recommended, and when a board is being pulled off or a new one is being placed, flaggers with high visibility vests are on duty to make sure the riders know what's going on.
"During COVID, we are limiting events to 10 volunteers and also requiring use of face masks," Isbell added.
Closer to Mount Vernon, there are areas of concern also, including a bridge near the Mount Vernon Estates where Isbell crashed in the past and bruised his ribs. They are looking for suggestions and volunteers as well. Anyone who is interested in helping organize an event in the Mount Vernon portion of the trail to clean a bridge, fix bridge deck boards, trim overgrown vegetation or do edging on the trail is encouraged to email mtvernontrail@gmail.com. They have a long list of projects that would be perfect for business, church groups or scout groups looking to perform a community service project, Isbell said.
For more information, go to MountVernonTrail.org, on Twitter at @MtVernonFriends, on Facebook at @MountVernonTrailFriends and by email at mtvernontrail@gmail.com