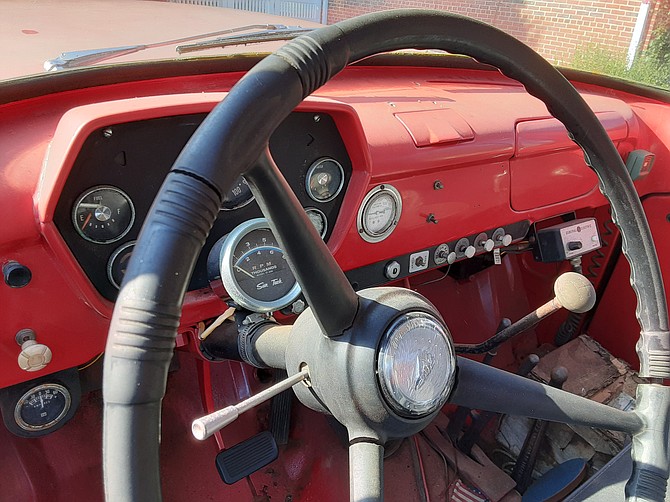 The Dodge Power Wagon 300 fire truck that rolled off the assembly line in 1959 was outfitted with a pump on the front so the truck could draw water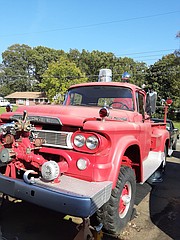 from a nearby creek in an emergency fire-fighting situation. After years of fire duty at the Burke Fire Station and other stations, it's sitting in a Springfield driveway to be admired by the passersby, and driven occasionally by owner Bob Brumback.
"I got it in February 1993 in a sealed auction from the Lake of the Woods Fire Department," Brumback said. His bid was $2500.
"That truck's been all over the area," added his housemate Mike Spears, whose father Bill Spears was in the Fairfax County Fire Department for 20 years, stationed at the Baileys Crossroad station. According to Spears, the truck in their driveway has a long history in Burke. "They bought that truck new," he said.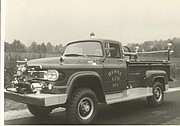 In 1995, Brumback fixed the truck up and painted it himself in "Rustoleum red," he said, and although it hasn't been in any local parades, it did make it to a local show over 20 years ago. "I did enter it in the Springfield Days car show one time in 1997," he said.
Brumback is a former Dodge mechanic, and is into Dodge trucks. Around his house in the neighborhood off Loisdale Road, he has a few Dodge pickup trucks parked in the driveway and along the curb. "I occasionally drive it around the neighborhood," he said, adding that "it's been sitting there since 1999."
The Dodge Power Wagon is a four-wheel drive medium duty truck that was produced in various model series from 1945 to 1980 by Dodge, then as the Dodge Ram truck from 2005 to the present. Its engineering code was T137 and some truck enthusiasts still use that as its "truck name."
The Power Wagon was used as a military truck in World War II and then used in municipalities across the country as the fire truck of choice. It has a 400-gallon water tank to use on fires.