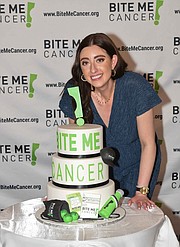 Led by Chantilly High grad Nikki Ferraro, Bite Me Cancer just celebrated its 10-year anniversary. The nonprofit raises money for research and awareness for Thyroid Cancer.
Since September is also Childhood Cancer Awareness Month and Thyroid Cancer Awareness Month, it was fitting that Ferraro founded Bite Me Cancer in that month, too. And she did it while she was still in high school.
At just 17, she was diagnosed with a rare form of thyroid cancer. A week later – and a month before undergoing a major surgery – Ferraro formed a Relay for Life team, named Bite Me Cancer, and raised $20,000 for the American Cancer Society in the two months leading up to the relay.

But that was just the start for her. Even though she was busy beginning her senior year of high school, she was driven to start a foundation to keep the support going to help others like her. So in September 2010, Ferraro officially founded Bite Me Cancer.
TO DATE, it's funded seven two-year grants – given directly to the individual researchers – and is currently raising funds for its eighth grant.

"When I was diagnosed, there wasn't any drug treatment available for my kind of thyroid cancer," explained Ferraro. "Greater research is needed for better treatment options for all forms of thyroid cancer, as well as to find a cure or prevention methods. Thyroid cancer is not the 'good cancer.' I'm so proud of our research accomplishments, but more is definitely needed."
In addition, donations to Bite Me Cancer are also used to support and inspire teenagers battling cancer. And again, this focus came from Ferraro's own experience as a patient.
When she was diagnosed, she didn't receive specific support for her age group. She also realized that other teenagers were either sitting in pediatric wards – where only the younger children were receiving special treats – or waiting in adult units where nothing was given to the teens to improve their morale.
"Being a teenager is already challenging, with becoming more independent, making new friends, and juggling all the schoolwork and activities," said Ferraro. "In this age group, teenagers are trying to find out who they are – and having a diagnosis of cancer changes everything. They have to depend on their parents much more than they should, at that age, friendships are challenging, and they don't receive anything to boost their spirits."
As a result, she took matters in her own hands and created Teen Support Bags. They contain several items to help teenagers pass the time, feel less alone while in the hospital or undergoing treatment, and be inspired. These treats include a baseball cap, journal, earbuds, an Amazon gift card, fuzzy socks, a T-shirt to customize, a game book, plus various Bite Me Cancer items that promote the foundation's "Attitude is Everything" motto.

BITE ME CANCER has partnerships with INOVA Children's Hospital, the National Institutes of Health, Johns Hopkins University Hospital, Medstar/Georgetown University Hospital and almost 130 other hospitals around the country. Since establishing its Teen Support Bag program in June 2012, Bite Me Cancer has distributed bags to nearly 7,500 teenagers in every state and in Washington, D.C.
The foundation has a board of directors and five committees of volunteers; there are no paid staff members. For more information, or to donate to Bite Me Cancer, go to http://bitemecancer.org/.