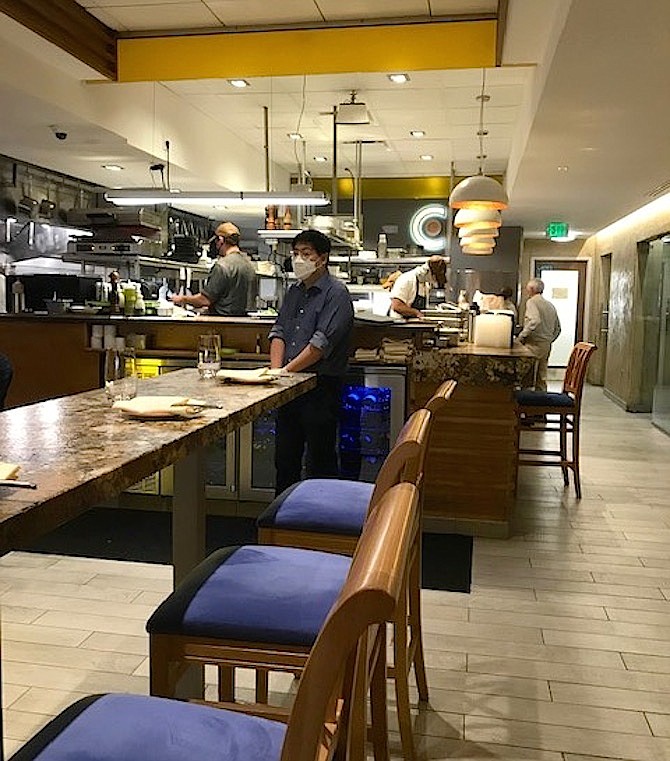 Three cheers that so many local restaurants have reopened. That may mean in many cases sitting outdoors because of limited indoor seating. But at a recent lunch hour at Vienna's distinctive Clarity restaurant, the awning-covered front terrace and parts of the parking lot had tables filled with the eager-to-eat clientele.
And no wonder. Owner and executive chef Jon Krinn has dazzling credentials: he worked with outstanding chefs in Paris and New York City, and returning to the D.C. area, he started the top-notch 2941 Restaurant in Falls Church. With its very sophisticated cuisine, the restaurant has earned its place as one of the top 100 local restaurants.
But several years ago, Krinn started this new venture in Vienna, and since then, its success has rocked the local restaurant scene. No wonder the seating areas fill up rapidly because the Clarity lunch and dinner menus change daily offerings—except the winning grass-fed Midwestern cheeseburger—yum. Consistent, though, are the hot rolls passed with extra virgin, very green olive oil.
Yet, menu changes may delete some favorites, such as the Fishermen's Stew, but the recent menu featured this appetizer: the Seven Hills Short Ribs & Fall Vegetable Soup. Filled with bits of meat and vegetables in a rich broth, the soup can kick off a full meal, or perhaps satisfy a light appetite. Either way, its layers of textures and flavors merit an order…. Unless, of course, patrons are looking for chef's foie gras salad or his calamari salad, which apparently is a favorite for a regular patron here.
Main-course dishes ranged from roasted swordfish and pan-seared Canadian salmon to spice rubbed venison leg or braised prime rib cap with purple to broccoli. A pasta entrée also appeared served with lamb Bolognese and lentils. Some items may remain on the menu, but if not, just sample what seems appealing. But the beloved cheeseburger, a menu constant that according to the website has been served here since Clarity's earliest days, is a real winner.
This burger, cooked to your liking, comes on a brioche roll and is topped with melted cheddar cheese and a slice of caramelized pork belly. Your side choices could be a green salad or house fries. And if you are a fan of hamburgers, this is your go-to offering.
Come the end of the meal, do not pass on dessert or desserts. Recently, three chocolate treats showed up: flourless chocolate ganache cake with a dark chocolate ganache sauce; an Australian white chocolate mud cake with hazelnut mousse and vanilla ice cream; and a brown ale chocolate cream pot de crème. If you are a chocoholic, the chocolate ganache cake will blow you away.
Come often, ask about special events, and enjoy the food, wine, and socializing with friends.
Clarity, 442 Maple Ave., E, Vienna. 703-539-8400. Hours may vary.