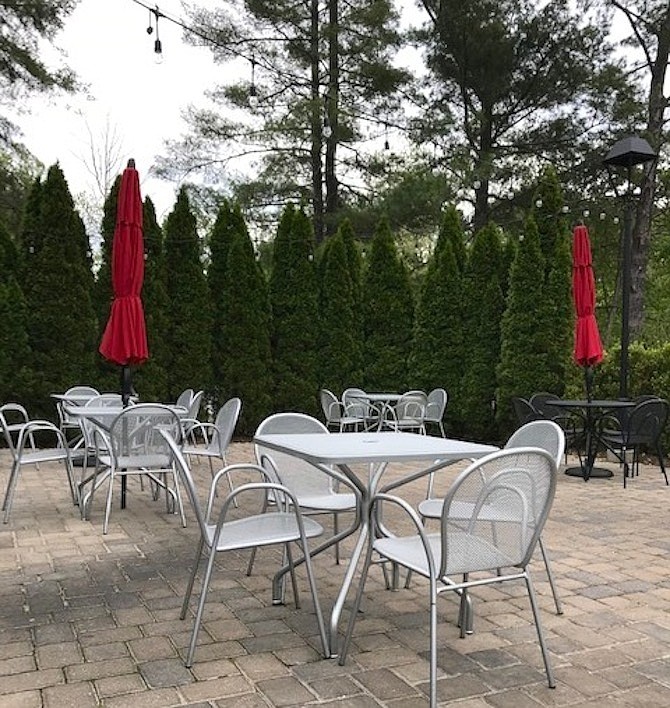 As locals applaud the reopening of restaurants in the DMV, folks craving the ideal summer grub—barbecue—should head over to Mookie's BBQ in Great Falls. Of course, its scrumptious, smoky eats are tempting all year, but why crank up the outdoor grill when this genius restaurant fits the bill for casual eats.
Opened back in 2015, its success and public draw are attributed to owner Brian Varani, who had been in the food world since a youngster—although being a cook/chef was not his first career choice. But after college and working in the corporate world for a few years, Varani fell in love with the smoky flavors of barbecued foods when he bought a smoker. That led to his eventual dedication to serving out the best BBQ meals in the area.
On a recent Sunday, even with still-limited seating, Mookie's drew in folks aplenty—and fortunately its outside patio was open, despite the threat of possible showers—which never turned up. Regardless of where folks sit, the service is prompt and friendly. But what may take patrons awhile is scanning the menu: it's not just barbecue!
But why not just barbecue? For example, the BBQ nachos starter is a heaping mound of crispy taco chips (tortillas homemade? we wondered) covered with one's choice of meats—chicken, pulled pork, and brisket—plus scoops of homemade cheese sauce and sprinkling of scallions, etc. Frankly, this could really fit the bill of a whole meal….but, then folks would miss out on some starter and entrée knockouts.
One can select soups (chili with or without cheese) or one of several entrée salads. Or people can select smaller entrées, such as one of the many sandwiches that include pulled pork; pulled chicken; brisket as well as assorted burger choices and short rib grilled cheese. And for burger fans, the Mookie's Burger with beef, pulled pork, cheddar, and jalapeños.

For the real BBQ special treat, however, scan through the choices of platters that include pulled pork; smoked sausage; smoked turkey; plus others, all leading down the menu page to the ribs! Choices there include an order of one-third, one-half, or a full rack of baby back ribs. These, as do other choices, come with sides plus a wedge of cornbread.
Whether you want a take-home pack of leftovers or not, do not skip the dessert choices, and frankly, the superstar is the Key Lime Pie with whipped cream. It is a fitting favor climax to all the smoky dishes beforehand. Other choices include warm chocolate chip cookie a la mode, chocolate pecan pie, and banana pudding, plus others.
Mookie's also offers to-go family packs so folks can eat BBQ at home with family and friends. Mookie's also offers a bar upfront with beers, more. Check the website for daily specials.
Mookie's BBQ, 1141 Walker Rd., Great Falls, VA. Phone: 703-759-2386. http://www.mookiesbbq.com/index.html. Check the Web for hours.