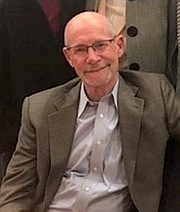 William "Bill" Farrell, Board Chair of Shepherd's Center serving Oakton-Vienna-Reston-Herndon (SC) has received the Hunter Mill District Community Champion Award.

As part of the annual Volunteer Service Awards, the Fairfax County Board of Supervisors selects an individual to be recognized for their commitment to promoting volunteerism within their community while addressing specific needs. The award was presented to Mr. Farrell on video by Supervisor Walter L. Alcorn, Hunter Mill District during SC's Volunteer Appreciation event.
Farrell has been on the Shepherd's Center team since he signed on as a volunteer driver in 2006. Since then, he has held many roles and stepped in wherever needed. For the past five years, he has served as the SC Board Chairman. When he joined the Board of Directors in 2008, he assumed the position of Treasurer. He has been the co-chair of Development Committee and is currently on the Executive Committee (Co-Chair) and Advisory Committee.
W. Scott Schroth, SC Co-Vice Chair, Board of Directors, noted that "Bill's calm and thoughtful leadership not only drew me into service with the Shepherd's Center as a volunteer, but quickly enticed me to join the talented volunteer Board of Directors. He is a pleasure to work with, collegial, and dedicated to our mission. I'm honored to call him a friend and proud of the work he does on our behalf in the local community."
Farrell's dynamic and friendly leadership style has transformed SC into a leading local charitable organization, recognized and honored both locally and regionally for outstanding community service. Farrell was also recognized and selected for a national leadership position with Shepherd's Centers of America where he served as national treasurer for six years. He provides the organization with strategic leadership, prudent financial management, and an infectious desire to help others.

Shepherd's Center is actively seeking new clients and Veteran volunteers. To donate or learn more about how you can help, visit https://www.scov.org/. Or, contact the office at 703-281-0538, office@scov.org.