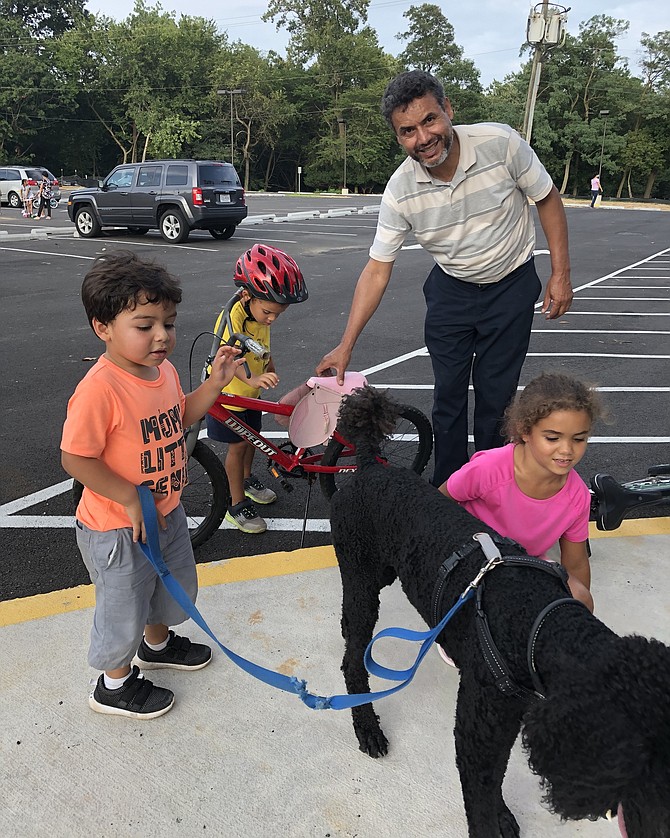 On the Friday before the long Labor Day weekend, Tomás Weber, his sister Vera Weber, and their cousin, Jonathan Melo, and grandfather "Papí" (Elvis) were enjoying the smooth, unscathed new enlarged blacktop parking lot at the Upton Hill Regional Park, along with several other young cyclists who were reveling in the near empty lot so they could show off their bike riding skills. Thomas and Vera were visiting Arlington with their mother Sara, who moved back to Pittsburgh from Arlington this year; they were taking advantage of the long weekend to visit family. Sara is a graduate of former Washington and Lee High School, and was happy to be back "home."

Upton Hill Regional Park was in the news in 2017-2018 because of the renovation planned by NOVA Parks (Northern Virginia Regional Park Authority) which owns and manages the park. Tree and urban forestry advocates in Arlington lobbied the County Board to halt plans to take down trees at the park. Citizens argued the last thing Arlington needed was another, bigger parking lot, especially for a park that is within walking distance for 80 percent of its users and offers respite from the heavily black-topped area near Willston Shopping Center.
Developed in the 1970s, Upton Park has always provided a balance of active uses and natural resource management. The waterpark underwent a major renovation in 2006. It attracts about 50,000 users a year. Mini Golf is another family friendly feature, attracting about 30,000 visitors a year, and the batting cages are a popular attraction, with over 100,000 rounds per year.

But for many users, the quiet forest paths were the reason they visited. For those users, arriving at the park last week was a surprise: trees in the old parking lot were gone, and the paved area was much larger.
In 2015, NOVA Parks surveyed over 400 park users to see what features might be added to the park. Half those surveyed said they wanted adventure features like a ropes course or zip line.
NOVA Parks responded to the concerns of tree advocates in Arlington by agreeing to save 49 mature trees marked for cutting, 35 living trees and 14 dead ones, and noted they would be able to expand the current upper parking lot without having an impact on the forest resources. Parking has been an issue on most summer weekends, NOVA Parks said. Using low impact development techniques, the new larger parking lot was to have a much smaller ecological footprint than the old parking lot. Old parking lots have all the water after storms flowing rapidly into streams. The new parking lot is designed to capture the storm water and release it slowly to protect the surrounding environment. One feature to improve water management is an underground storage tank or "cistern" that will capture the storm surge and release it slowly. Sections of the parking lot now have pervious pavers, designed to absorb the water and release it slowly.

And for now, at least, the parking lot is a pothole-free, glossy paradise for kids who have new bikes and a long weekend to put them through their paces. If only there were a few shade trees to keep the sun off…