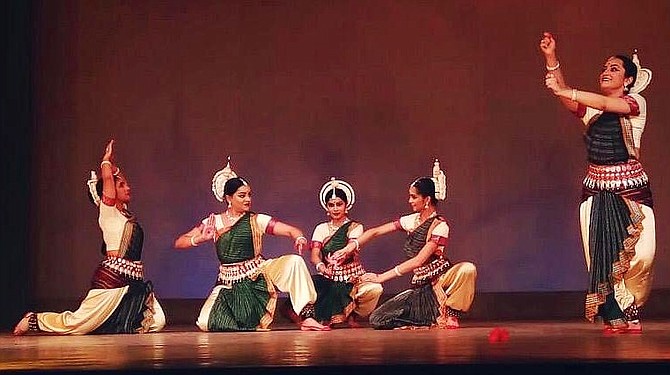 Nrityalaya, School of Indian Classical Odissi dance, with home in Potomac, was selected to participate in The Kennedy Center's Arts Across America live digital performance series.
Their live performance of "Pursuing Passions Through Disturbing Times: Odissi Through a New Lens," will be at 4 p.m. Wednesday, Sept. 23.
"This series features artists, like ourselves, who want to share their work as they cope during this difficult time. In light of the current circumstances of the world and in celebration of Nrityalaya's 30th anniversary, it is an honor to be a part of this series," founder Dr. Chitra Krishnamurti said. "Despite our inability to meet in person, my senior students and I are continuing to work on exciting projects."
Seven students ages 18-26 will be on stage for Wednesday's performance.
Krishnamurti described their colorful costumes as bright silk with elaborately woven borders and fans, silver jewelry and ornaments and hair elaborately decorated with flowers.
"The Classical Indian Dance Odissi is a graceful, elegant, subtle style which focuses on highly flexible body bends called "Bhangis", vivid torso movements, intricate technical steps, dancing on the heel, and self-expression or Abhinaya," she said.

It originated as a Temple Dance in Orissa and was performed as a form of worship within the precincts of the Temples by the Maharis. Later it was brought to the public by the male dancers dressed in female costumes called the Gotipuas, Krishnamurti explained.
Arts Across America is one of the Kennedy Center's Social Impact initiatives. Begun July 27, the series showcases art from communities across the country. Programs are live weekdays at 4p.m. on Facebook Live, You Tube or on the Kennedy Center website: https://www.kennedy-center.org/.
Krishnamurti is thrilled to have her dancers selected to be a part of the program at the Kennedy Center. She said she heard about the program, applied, and was accepted.
"We are dedicating the show as a tribute to the Front Line workers who have sacrificed their lives in the service of others," Krishnamurti said.
She asks that viewers donate to an organization to help Front Line workers.
You can access the show at either of these websites:
https://www.facebook.com/watch/live/?v=1231695110522287&ref=watch_permalink