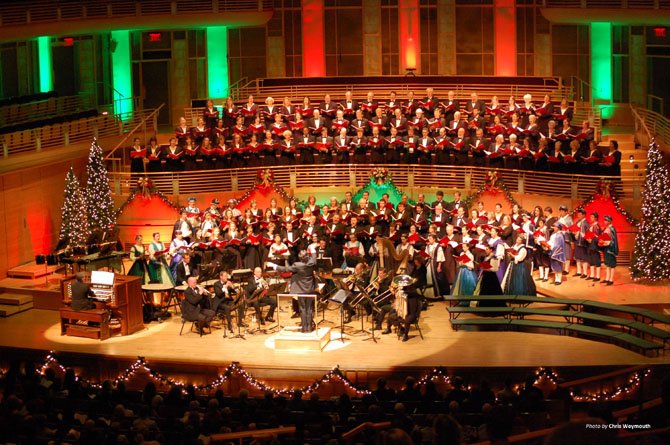 While most of their peers are anxiously counting down the days until winter break, the 36 members of the Robinson Singers elite vocal group are focused on a different goal: performing with the renowned Washington Chorus at the Kennedy Center and Music Center at Strathmore.
At the beginning of this past summer, Robinson director of high school choral activities Mike Horanski received word the Singers had been selected to sing with the Grammy Award-winning ensemble. Now in its 22nd year, the "Side By Side" program features one "outstanding high school chorus" joining the 200-voice Chorus for the ensemble's much-loved "A Candlelight Christmas" concert series.
"Side By Side is an integral part to the success of the programming," said Washington Chorus music director Julian Wachner. The chosen high school group has the opportunity to rehearse with Wachner and the Chorus, and perform 12-15 minutes alone on stage in addition to several collaborative pieces. "It's a huge deal," said Wachner, "and it's very exciting."
"It's a challenge and also a benefit," said Horanski. "They've had the chance to work with an outstanding conductor, somebody they don't know. That's really good for them to respond to a different director."
AFTER THE GROUP'S SELECTION, Horanski, Wachner and a few of Wachner's assistants began programming for the concert series. The tried and true lineup includes traditional Christmas singalongs and a few new settings -- some arranged by Wachner himself -- of classic carols, such as "Joy to the World," "Angels We Have Heard on High" and "Silent Night."
Though known for pushing musical boundaries in his writing and conducting, Wachner is sensitive to the roles music can play this time of year. "Christmas isn't the time to teach people about new stuff," he said. "There's some comfort to the familiar. I'm trying to bring the best out of the music, whatever it is. Drama doesn't have to mean loud and aggressive; it can mean incredible, peaceful, stillness."
Horanski is trying to get his students to echo Wachner's attention to interpretation, programming four contrasting works for the Robinson Singers' spotlight set. "Here We Come A-Caroling," "Out of the Orient Crystal Skies," "Deck the Halls in the 7/8" and "This Christmastide" facilitate the group to showcasing its versatility and maturity. "It was a goal to broaden a palette," said Horanski, "but still sit within the overall genre of the entire concert. It gives the students a chance to sing in four different styles, try to communicate the message of four different pieces."
ACCORDING TO WACHNER, the Robinson students have had no problem keeping up with the difficult and diverse repertoire. In fact, they're breaking ground: For the first time in the "Side By Side" program history, the two choirs are performing a piece for double chorus: a Benjamin Britten work, written when the composer was high school age himself.
"I've never tried that before," said Wachner, "but [the Robinson Singers] are able to handle it. They have a really sweet and wonderful sound. They're really into it."
"I think at first it was a good experience for them to be out of their comfort zones to go to the joint rehearsals," said Horanski. "They were a little bit nervous, but they started to settle into things."
Getting a taste of the challenging yet rewarding life of an elite ensemble musician is a goal of the outreach program, and both directors see the once-in-a-lifetime value to the young vocalists.
When and Where
The Kennedy Center, Sunday, Dec. 15 at 5 p.m,. Saturday, Dec. 21 at 1 p.m. and Sunday, Dec. 22 at 7 p.m.
Music Center at Strathmore Thursday, Dec. 19 at 7:30 p.m. and Monday, Dec. 23 at 7:30 p.m.
Tickets range from $15-$70 and are available through the Washington Chorus at http://www.thewas...">www.thewashington... or 202-342-6221, or at The Kennedy Center box office or http://www.kenned...">www.kennedy-cente....
"I think it's opened their eyes to a larger world of choral singing," said Horanski. "I try to tell them once they leave high school, I'd like them to find outlets where they can continue to find choral music. They can continue singing as an adult at a very high level, continue as a lifelong activity, which is my main goal for them."
Wachner echoes Horanski, stressing the experience is a special one: "The concept of focusing on excellence, seeing the effect of their hard work on 2,000 people in The Kennedy Center -- to see them completely transported, filled with joy, jumping up from their seats. It has an energy like a rock concert."
Which is something Wachner knows a little bit about, having collaborated with The Rolling Stones on their 50th anniversary tour. He worked with Mick Jagger, learning a few of the rock legend's programming tactics. "It's not that different," said Wachner. "We're doing the same things, except we have a few more Fa-la-las." Come prepared with sleigh bells, and guitar picks.