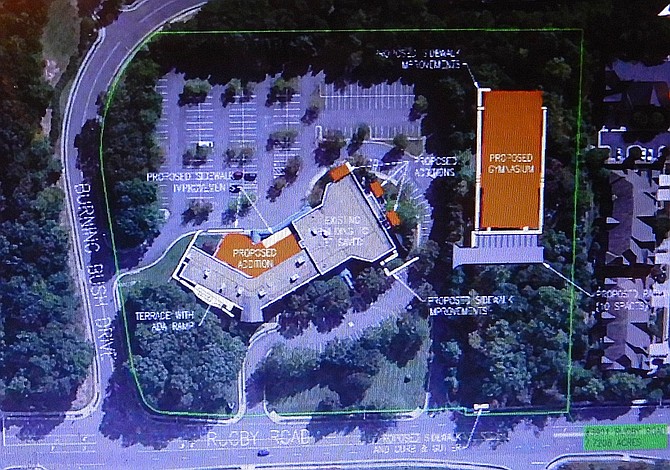 Wanting to provide even more opportunities to its members and the community, Fairfax Church of Christ is seeking a special-exception amendment from Fairfax County. If successful, it will be able to add land area to its existing site, re-establish a nursery school for 200 children and construct some building additions and a community gym.
The church is at 3901 Rugby Road in Fair Oaks. And attorney Lynne Strobel recently presented details of its proposal during a joint meeting of the Sully District Council and West Fairfax County Citizens Association (WFCCA) land-use committees.
This church has a 760-seat sanctuary and does not plan on enlarging it. However, it hopes to add onto its 36,077-square-foot building. Three small additions in Phase One would add 5,938 square feet; and the gym in Phase Two would add another 15,160 square feet – making the church 57,175 square feet, overall.
"Fairfax Church of Christ is on 5.86 acres on the east side of Rugby Road and has been there since 1972," said Strobel. "It's on parcel 32A and has recently acquired parcel 31 to its south, for a total of 7.72 acres. Both parcels are zoned R-1 [residential, one home/acre] and parcel 31 currently has one home on it. The church wants to rezone both parcels to R-2 [residential, two homes/acre]."
IN PHASE ONE, she said, the three small additions would go on the south side of the church. And a portion of the one-story building behind it would be demolished and rebuilt as two stories.
Phase Two would be the gym for church members to use for recreational activities, plus a meeting and gathering area. It would also contain space for community use by Scouts, civic groups, etc.
"There are 254 parking spaces now, and this project would add 10 more for the gym – which will be accessed solely through the existing church property," said Strobel. "And the church parking spaces may also be used for the gym."
She said the church will preserve all the trees at the front of the property and will add more landscaping, as well. And she stressed that the gym – which is proposed to be 40 feet high – "probably won't happen for several years."
"The church has been thoughtful about this process and wants to remain a vibrant part of the community," said Strobel. "And they'd like to have childcare to serve both the congregation and the neighborhood community. That way, the children could stay there longer than four hours."
"Our previous childcare had 60 children and was mainly used by the community," explained the Rev. Phil McKinney, the church's senior pastor. "But we had to close it because we only had a morning option, and the community needed all-day. But this new nursery will allow us to offer all-day nursery school."
In response to questions, he said the trio of small additions are slated to be used for storage space for chairs and other items. And, he noted, any lighting outside the gym would face downward and be Dark Sky-friendly, so as not to adversely affect any nearby homes.
STROBEL said the drop-off for the childcare/nursery school program would be behind the church. And Jay Johnston, with the Sully District Council, said its traffic will enter via Rugby Road, drive through the site and exit via Rugby Road, as well.
Resident Srilekha Palle said she lives nearby in Kensington Manor Homes, off Burning Bush Drive, and was worried about any nursery-school traffic on that street. But, replied Johnston, "We'll probably [recommend] restricting access to Burning Bush, for safety purposes."
Stephen Chulick, with the WFCCA, wanted screening placed between the church and the closest homes. Strobel said church representatives planned to meet soon with the community, and she told the land-use committee members she'd return to them, in the next few months, with an update.
This matter is currently scheduled to go before the county Planning Commission on June 30.