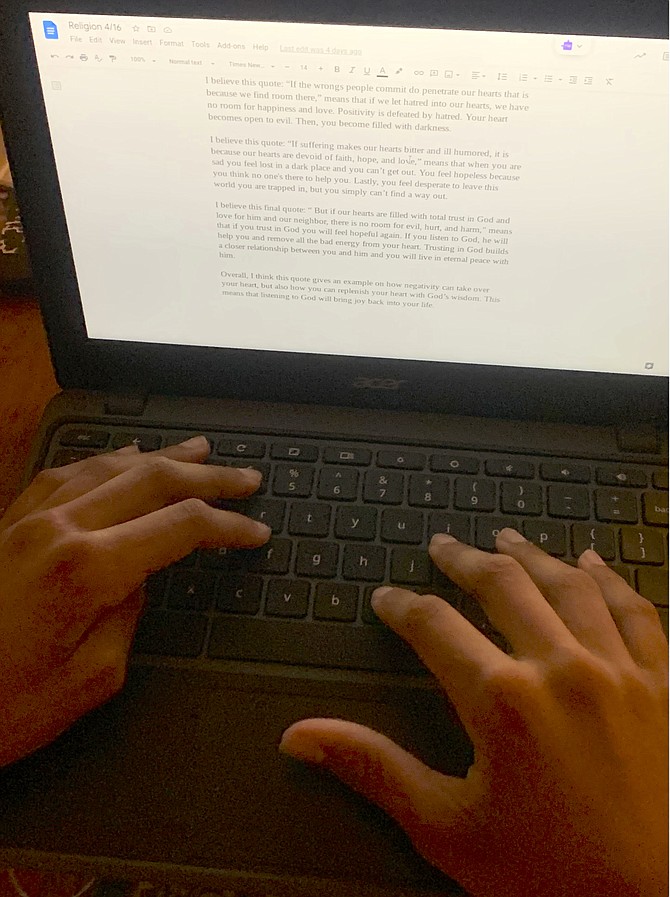 When Stacie Dougherty read an essay that her seventh grade son wrote for a Language Arts writing assignment, she became concerned. As she scanned the page, she noticed grammatical errors and run-on sentences.
"I don't think he knows how to write a paragraph with a topic sentence and supporting sentences, she said. "I need to nip this in the bud before he starts high school in a year and I can't afford a tutor."
Parents like Dougherty who fear that this school year's remote learning environment has compounded their child's writing difficulties are looking for strategies to address the problem. Local writing specialists explain why kids struggle with writing and what parents can do to help.
"Writing can feel like a challenge, especially at the middle and high school level," said Kathryn Roessler, St. Stephen's & St. Agnes School in Alexandria. "This is often because writing involves so many different skills and is a process that entails so many different steps."
Take time to brainstorm, plan and organize, says Roessler. "Sometimes students see this as an extra step rather than one that can promote efficiency and save time in the long run," she said. "An outline is always helpful for organizing ideas, even when it's not a specific requirement by the teacher.
One resource for improving a student's writing is providing models and examples of the specific type of writing that a student is attempting to complete, says Amy Hutchison, Ph.D, associate professor and director of the Division of Elementary, Literacy and Secondary Education at George Mason University. "[It's] sometimes referred to as mentor writing, she said. "Students study the features of a mentor text to determine how they can apply those features to their own writing."
Whether a classic or the latest in popular fiction, a tool in developing effective writing skills is sitting on the shelf at a local library. "Reading has a profound impact on the development of writing skills," said John Gilbert, Tutoring Coordinator and Writing Specialist in Marymount University's Student Academic Hub. "Think of reading as a partnership that goes hand-in-hand with writing. Reading exposes a child to different writing genres, builds vocabulary, increases phonemic awareness, and helps to build grammar skills."
An activity as simple as keeping a daily journal can help boost a student's writing. "Studies have shown that journaling, because it is a creative process, not only improves writing skills, as it is a daily practice activity, but journals have also been shown to inspire reluctant children to write," said Gilbert.
Leanne M. Gill of Norwood School in Bethesda, says setting an example for one's child can be a powerful tool and underscoring the importance of writing skills. "Have your child read your writing and give you some tips on how you can revise or edit it to make it stronger," she said. "Use transition words to promote graceful flow from one idea to the next."
"Read different types of writing with your child such as fiction, news articles and opinion pieces," added Gill. "Talk about the different writing techniques you notice like sentence length, punctuation and organization."
Students should be encouraged to edit their own writing, says Roessler. "Edit for one thing at a time, she said. "In other words, students can read through their work the first time while focusing on mechanics, including punctuation and capitalization. Then, they can read their work again and check for spelling. Other areas to focus on include grammar, word choice, and organization. Using an editing checklist will also foster a step-wise approach to editing."
Hutchison of GMU is part of a team funded by the U.S. Department of Education to conduct research on the use of digital graphic organizers to support writing difficulties. "Our digital graphic organizer includes built in supports to help students with self-regulation, she said. "Research shows that all students, including those with and without writing difficulties, increase the quantity and quality of their writing when using this structured approach."