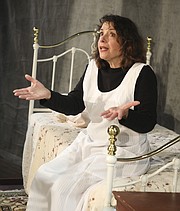 It's 1883 in Amherst, Massachusetts. "The Belle of Amherst" by William Luce takes place at the home of poet Emily Dickinson, as she tells her story through anecdotes based on biographical information, her letters, and her poems in this this one-woman bio-drama. Welcoming the audience inside, Dickinson reveals both the joyous and heart-breaking events in her life that shaped her enigmatic existence and engaging poetry. The Little Theatre of Alexandria (LTA) is presenting the play from April 24 to May 15, 2021.
Director Frank D. Shutts, II, said for decades he wanted to direct small cast shows at LTA. "Unfortunately, small cast often means small profits, so the Board has always avoided those shows.  If there is a sunny side to Covid, it is the need for small-cast shows.  When the call went out to directors to submit shows with a limited cast, I leaped at the opportunity to submit 'Belle' .… What better show for socially distanced times than a monodrama about Emily Dickinson, the socially distant poet?" he said.
He continued: "William Luce's carefully researched and brilliantly penned writing brings the story of Emily Dickinson to life so brilliantly, so effectively, that those who already admire her poetry will find a deeper appreciation for and understanding of Dickinson's work.  For those who do not really know or understand it, I hope they are so moved by her musing on life, love, nature, religion, and death that they pick up her poetry again, or for the first time."
Karen Jadlos Shotts plays the main role of Emily Dickinson, a much respected and prolific American poet ahead of her time. "She was also a person who lived a solitary life by choice, never married, and conducted most of her friendships via letters," she said. "She had real intelligence and talent, but due to the times she lived in, was under-recognized during her lifetime. To have kept writing under such circumstances suggests to me that also a very strong person — she just kept going, despite feeling that people may never read her poems, that they would be 'an undelivered letter lost in transit.'"
"The Belle of Amherst" will be Karen Jadlos Shotts' 16th show at the Little Theatre of Alexandria.  Almost all of her roles have been leads.  The shows include comedies such as "Born Yesterday" and "God of Carnage," thrillers such as "Pack of Lies," dramas such as "Cat on a Hot Tin Roof," "Rabbit Hole," and "Scotland Road," seven musicals, including "The Fantasticks and "The Little Shop of Horrors."
Jadlos Shotts continued: "The most challenging aspect was the size of the role; a 90-minute monologue, if you will, which is a lot more than I've done previously.  Also, because it is a single-person cast, during our social distance time, the learning and creative processes often felt very solitary.  I missed the collaborative creative process I enjoy when working with other actors."
Producer Russell M. Wyland said he had been aware of "The Belle of Amherst" for many years, but only read it when Frank Shutts recommended the show for LTA's "Small Theater for Unusual Times." He said: "I had to study Emily and her contemporaries in graduate school (my Ph.D. is in 19th-century British literature), but Emily was always an enigma to me: how could this recluse in what was then the rural village of Amherst, Massachusetts, write poems that feel both private and universal?  I was taken by the way William Luce answered that question, weaving together a tender and joyful story with Emily's poetry and life."
He added: "In addition to being the producer of 'The Belle of Amherst,' I am also the LTA President.  I think the Board has become aware of a desire by audiences and actors to see more shows that put women front-and-center, especially characters who have been missing from the initial telling of history.  Our last show — 'The Revolutionists' — focused on four very different and powerful women who fought against the extremism of the Reign of Terror ushered in by the French Revolution.  'The Belle of Amherst' is a very different kind of powerful woman who was initially left behind by the male literary "taste makers" who ran the 19th-century literary establishment.  Our next show — 'Ripcord' — puts women 'of a certain age' in the main comedic roles."
The Little Theatre of Alexandria is presenting "The Belle of Amherst" from April 24 to May 15, 2021. Tickets are $24 to $48.  The venue is located at 600 Wolfe Street, Alexandria. Visit http://thelittletheatre.com/ or call 703-683-0496.
More like this story