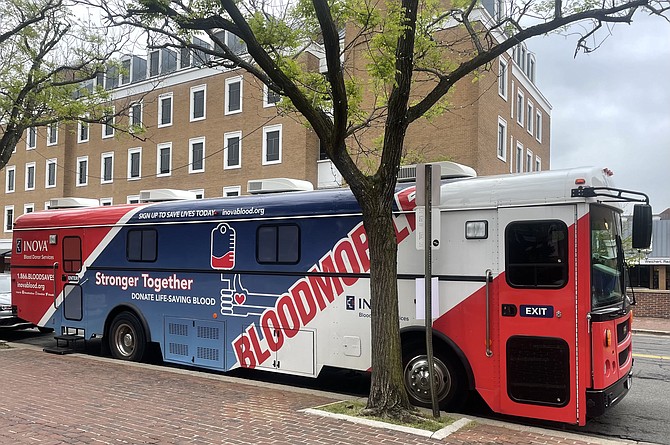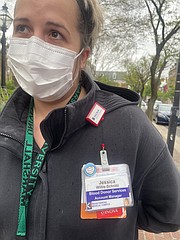 Just a few minutes of your time can save a life. Heather Wade, Donor Recruitment Manager for Inova Blood Donor Services, says "We need 230 donors a day in Northern Virginia to get 200 successful donations which yields 30 platelets, 20 double red cells and 150 whole blood (the old fashioned kind). So the power of one can save three lives."
Wade says they hold two blood drives five days a week in Northern Virginia. Due to COVID most blood drives are held at their three brick and mortar locations in Sterling, Annandale and Centreville. However, there are other local locations scheduled such as the Alexandria Town Square Monday, April 19 from 10 a.m.-4 p.m., Virginia Hospital Center in Arlington Tuesday, April 20 from 10:30. a.m.-4:30 p.m., Anytime Fitness Center in the Kingstowne in Fairfax County on Tuesday, April 20 from 12 p.m.-6 p.m. and 5010 Little Falls Road in Arlington on April 25.
Any blood donated locally is used within a radius of 40 miles, so you know your blood will be used to help members of your community, Wade says. There are 32-38 appointments available at each location. When the pandemic first hit, they had a lot of support. But as schools are starting to open and more vaccinations are taking place, the response has been much lower.
"Now we are struggling. The need has grown exponentially but the effort is down. Truly there are people waiting on a blood donation." Wade says she thinks people are struggling with COVID fatigue. "It is difficult to let the community know how much this is needed." She says they have a number of appointment cancellations "but we don't know why."
The whole process takes an hour or less start to finish. "We think about it in 15 minute increments: 15 for filling out the questionnaire, 15 for a screening mini-physical with blood pressure, temperature and finger prick to test for iron, 15 for donation "needle in arm" and 15 for snack and drink to replenish the body," Wade said.
Laura Watchman, who is organizing a Blood Drive on Little Falls Road in Arlington on Sunday, April 25 in conjunction with Inova Blood Donor Services, says most people who donate blood say they do it because it is something you can do that directly saves lives. Watchman has recently organized a number of blood drives through her church and says they have one man who has donated 60 times.
The Inova Blood Donor Services Bloodmobile will be located at 5010 Little Falls Road on April 25. Watchman says you must register and make an appointment ahead of time.

"We have 32 slots available and usually fill up but currently have nine left to fill." She says giving blood is easy with many of the prescreening questions now done online at home in order to cut down the time a person spends at the site. "And a bonus to your good deed is you get to take home a T-shirt."
The blood drive will be held from 9 a.m.-2:30 p.m. Rock Spring UCC sponsors it with support from Arlington Rotary Club.
Wade adds, "Stop waiting; start donating."