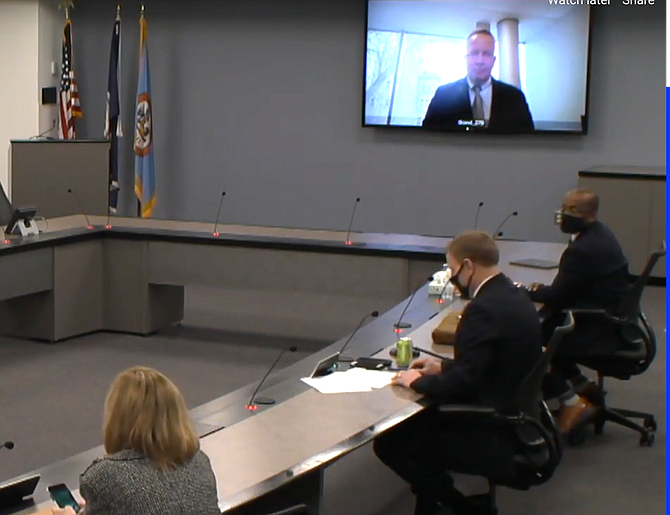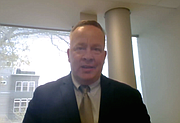 Coming out of a closed-door session on Friday, April 23, the Fairfax County Board of Supervisors prepared, as Supervisor Penny Gross (D-Mason) said, "to select one of the most important hires it undertakes."
"I am pleased to move the appointment of Kevin Davis, as the next police chief, effective May 3, 2021, with an annual salary of $215,000," Gross said. The motion unanimously carried. Davis is a Maryland native.
"After thorough interviews, the entire board is confident that Kevin will continue Fairfax's work on police reform, build on the deep community involvement and relationships with stakeholders, and improve morale within the police department," said Jeffrey McKay, chairman of the Fairfax County Board of Supervisors, in a statement.
Davis called in to the Fairfax County Board of Supervisors' meeting. He heard as McKay officially welcomed him in his new capacity to Fairfax County, saying that they were delighted to have him on board after the "long exhaustive process." McKay added that the Board looked forward to working with him on this new journey.
DAVIS spoke directly to the supervisors. "This is a humbling moment for me. I take it very seriously, and I promise not to let you down," he said. "I look very much forward to working with the women and the men of the Fairfax County Police Department and several employee groups. You guys are a great agency; I want to say that loudly and clearly."
Questioning if there was room for improvement in the Fairfax County Police Department, Davis said absolutely. He acknowledged change is sometimes hard and challenging.
"But if you didn't know you were in a difficult position, you wouldn't be here. So, we have to seize this moment and continue to get better," he said. Davis added he looks forward to working with the diverse communities in Fairfax County.
As his first step, Davis said, the Department must establish legitimacy to earn trust, which takes hard work. "It takes showing up every day and doing the work, and we have to pay keen attention to vulnerable communities, underserved communities, and communities of color. We have to meet you where you are. We have to be better listeners. We have to be less defensive, and we have to, quite frankly, see you. … You have my word that I am committed to doing that on behalf of Fairfax County."
As for accountability, Davis said he would call "balls and strikes."
"No one hates a bad cop more than a good cop (does). You have my word that those accountability systems will be in place," he said.
Davis added that Fairfax County already had common sense police reform underway, but it would be a constant conversation. Davis said reform is something done for police officers, not to them. "It makes you better. It earns you a better relationship with the community," he said.
Davis said he looked forward to the journey. It would be an opportunity to work with the community, residents, elected officials, and community leaders in the agency.
AMONG HIS ACKNOWLEDGEMENTS, Davis thanked the Board for their trust in him, County Executive Bryan Hill for his continued leadership, interim Chief of the Fairfax County Police Department, David M. Rohrer, and his predecessor Fairfax County Police Chief Edwin C. Roessler Jr. for his leadership. Roessler stepped down in January 2021.
According to World Atlas, the Fairfax County Police Department, which has roughly 1,400 full-time sworn-in officers, is Virginia's largest police department and ranked 33 in the top largest police departments in the United States in August 2020.
Braddock District Supervisor James R. Walkinshaw issued the following statement regarding the Board of Supervisors' selection of Kevin Davis as Chief of Police.
"Many law enforcement leaders have learned to talk the talk of police and criminal justice reform, but very few have actually done it. In Kevin Davis, we have selected someone with a proven track record of implementing meaningful reforms in the face of fierce resistance. That's why the Open Society Foundation – an organization working to develop policing systems that treat everyone equally – asked him to write the book on consent decrees and police reform. With Chief Kevin Davis, Fairfax County is poised to build on the accountability measures already in place here and lead the nation in ensuring that the law is employed as an instrument of justice."
Board of Supervisors Appoints Kevin Davis as Fairfax County's New Chief of Police. – YouTube can be found online.
Biography
Kevin Davis is fourth-generation public safety, born and raised in College Park, Md. Most recently, Davis worked as Director of Consulting Services at GardaWorld. Davis served as City of Baltimore's 39th police commissioner from 2015 to 2018 after the in-custody death of Freddie Gray and the riots that followed. According to a Fairfax County press release, he established a Department of Justice Compliance and Accountability Division and a fully implemented body-worn camera program during Davis's tenure at the Baltimore Police Department. Davis worked to build trust with the community and foster transparency, providing information about internal policies and all police-involved shootings. He expanded the Department's police chaplains' program, which trained more than 100 faith community leaders to serve as ambassadors in the community.
Before that, Davis served as Anne Arundel County police chief from 2013 to 2014 and as assistant police chief of the Prince George's County, Maryland police department, 1992 to 2013. He is a graduate of the FBI National Academy and the FBI National Executive Institute. Davis holds a master's degree in Management from Johns Hopkins University and a bachelor's degree in English from Towson University.
Fairfax County Supervisors Validate Hire of New Police Chief
Aware of concerns, comments provided
Media reports concerning former Baltimore Police Commissioner Kevin Davis, appointed last week as the new Fairfax County Chief of Police, raise concerns about his employment history, including allegations of excessive force and violations of civil rights in 1993 and 1999.
Members of the Fairfax County Board of Supervisors said on Tuesday, April 27, that they were aware of the past issues, but still believe that Davis is the right candidate to serve as Fairfax County Police Chief.
According to a report by NBCWashington, "Incoming Fairfax Co. Police Chief Appointed Despite Lawsuits Over Force in Prince George's," dated April 27, states that  Mark Spann won a civil lawsuit against Davis, who as a Prince George's County police officer stopped Spann in front of his Temple Hill family's home in 1993. In the NBC4 Washington report, Spann alleges that Davis threw him to the ground and mashed his face into the pavement. The same NBCWashington report states that six years later (1999), Davis, then a sergeant, was sued again, this time "for false imprisonment and arrest of a young man who claimed Davis and other officers essentially kidnapped him for a night."  NBC4 Washington reports, "The victim won his civil suit."
On Oct. 15, 2015, a report by WBALTV, "Panel approves Davis as commissioner amid protests," by Kim Darcy and David Collins states, "The jury award against Davis was $12,500," in the Mark Spann lawsuit. As for the second lawsuit, the one in 1999, WBALTV states, "Court records indicate Brian Romjue, a teenager at the time, accused Davis and three other Prince George's police narcotics officers of kidnapping. He claims the officers took him to a remote location and roughed him up, seeking information."
WBALTV reported that the jury rejected the claim the officers used excessive force during the 1999 incident, but "the jury award against Davis was $90,000 for violating Romjue's constitutional rights."
Catherine Pugh, Mayor of Baltimore, fired Davis as Baltimore Police Commissioner on Jan. 19, 2018, saying she had run out of patience in the attempt to reduce crime.
Fairfax County Supervisor Rodney Lusk (D-Lee) said that during his interview process, Davis made clear his commitment to police reform, data transparency, department morale, and combating inequalities in the use of force. "After extensive discussions on these and other topics with Mr. Davis, our entire Board came away confident in his values and ability to lead our police department," Lusk said. "I look forward to working with Chairman McKay to introduce Mr. Davis to our community, and I am committed to providing opportunities for the community to directly ask him questions about his past as well as his goals for the future of policing in Fairfax County." Lusk is chairman of the board's public safety committee.
VICE CHAIRMAN Chairman Penelope A. Gross (D-Mason) said that the Board used a search firm for a national search for police chief. They brought several candidates to the Board for interviews, and significant background checks had been done.
"I like to say, anybody who is coming for an interview, as police chief for Fairfax County, they're going to have some things in their background that may raise some questions. We felt that he was the strongest candidate, would do the best job in Fairfax County," Gross said.
According to Gross, the Board was aware of the employment issues raised in Maryland and that the mayor of Baltimore fired him. "As the mayor, she could, and we understand that's a political decision," Gross said. "We are aware of issues that were raised about all of our candidates. We still feel that Commissioner Davis was the best candidate for Fairfax County," Gross said.
Kofi Annan, President of The Activated People, said: "The hire of Chief Davis feels like a gut punch considering what the Black community and our nation has experienced over the past year. While the Derrick Chauvin verdict was a step in the right direction, this hire feels like we've taken two steps back locally. Nothing in Chief Davis' record indicates he is a reform-minded leader, and the revelations about his own racially-charged misconduct only solidifies our belief that he is not the leader we need at this moment. We hope that in light of this new evidence the Board of Supervisors reconsiders his appointment."