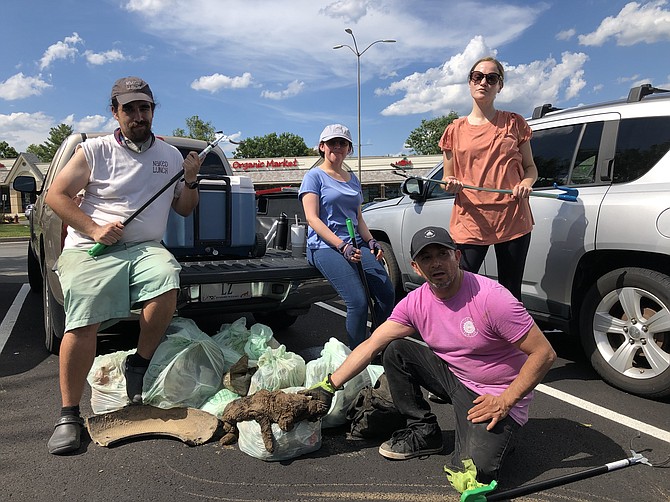 Team Members at Mom's Organic Market take environmental restoration seriously. It is Mom's culture, their stated corporate purpose "to protect and restore the environment." Recently, a group of Team Members at Mom's Organic Market in Herndon donned work gloves, hats, and sunscreen. They walked over to nearby Sugarland Run, literally in their backyard, taking physical action to protect and restore a historic environment along the tributary of the Potomac.
It is land the Manahoac tribe of Indians inhabited centuries ago. In 1692, according to "A Journiall of our Ranging," by Lieut. David Strahane of the Rangers of Pottomack, they explored the area finding "Juice, like Molasses, distilling from the tree." Hence came the name "sugar land," the habitat of the sugar maple. According to the "Journiall," it was in sugar land that the Englishmen tasted the syrup of maple trees for the first time.
Lea R. of Reston, Kendall Hobson of Herndon, Sevlin Roca of Ashburn, Kendall Scott of Leesburg, and Caton Fuller of Herndon wandered the shady, quiet paths and stream banks of Sugarland Run, picking up litter, and waded into the water to remove the trash, restore the environment.
Nicole Schroyer of Mom's said that all stores had designated "ER" Captains who spearheaded sustainability by educating staff on environmental initiatives, participating in volunteer opportunities, connecting with local environmental non-profits, advocating for local and statewide policy, and more.
"All MOM's stores volunteer quarterly in their communities," said Schroyer. "Team Members may help out at an environmental festival, or on an organic farm, plant trees, or simply walk around their community or local park and pick up trash."
"It's a great program that allows us to encourage everyone to get on board and help out in any way they can," said Schroyer.
According to Kendall Scott, a couple of weeks later, Team Members were back in the environment again. "It was a cleanup and garden maintenance for Mason Neck State Park, one of our VA partners," said Scott.