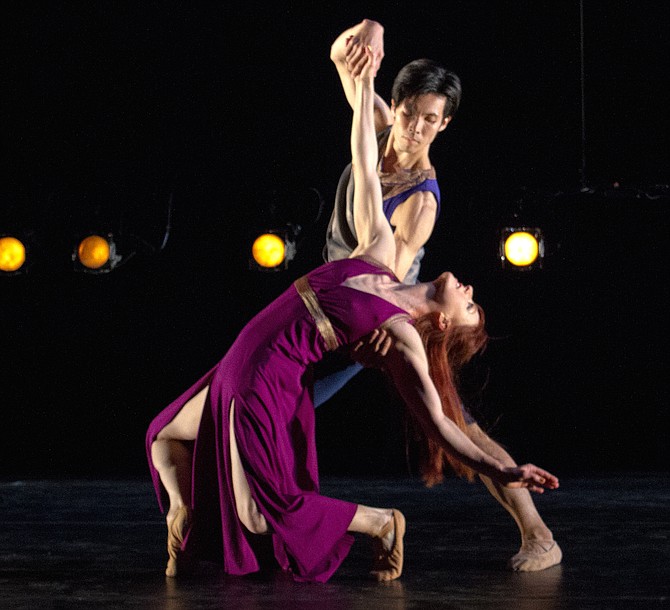 Lucy Bowen has decided to go out with a bang. Her last performance of the Bowen McCauley Dance Company (BMDC) is scheduled at the Kennedy Center on Sept. 14. It is a one-night in person performance featuring three world premieres with live musical accompaniment.
After building her company from a chamber size group to a well-known award-winning institution over 25 years and surviving the pandemic, Bowen has decided it's time to move on.
Bowen has been dancing all of her life since she discovered ballet at seven-years-old. "I didn't really fall in love with it until I was 11, which is a little late for a ballerina." She says she grew up in Indianapolis "where I got a decent foundation and received a scholarship to study at the Joffrey Ballet." Bowen danced in New York for 10 years, three at Joffrey II.
"But I never had very good feet with those high arches. I had to work and work and work.
I knew I wouldn't be a top ballerina." So she took her pointe shoes off and moved to more modern dance. "It suited my body better." She says she knew she had some natural talent "but not super long legs. You can't change that."
When Bowen moved to the D.C. area, she taught contemporary ballet at George Washington University and the Washington Ballet. It was here she was asked to choreograph, "and I got the bug."
Bowen started her dance company in Arlington 25 years ago as a non-profit with a small board of directors and a few dancers. "Dance Magazine" gave the first show in 1996 a good review "and it gave us a jump start." She said she got a lot of assistance from Arlington County through their incubator program.
"I was one of the eggs. You didn't get much financial support but we got free space, small rehearsal space and free marketing. It was very helpful for a small company."
The company also participated in a regular sister program with Mexico and once with Germany. "The concert in Aachen was a wild success. They gave us a standing ovation for at least 20 minutes both nights."
She explains as the company got bigger they needed dollars and management. "There are quite a few parts to the job."

She tried to submerge herself in the business side—accounting and writing grants — "but those are not my skills. Dancing is my passion."
"It is tough to start a dance company and keep going 25 years."
She says her dancers sign on for a year. "Two of them have been with me for 15 years and they are both ready for transition as well." Her dancers rehearse three times a week and are paid for performances, shoes, classes and training. Still, like many other kinds of performing arts, it is a part time job.
After five years Bowen started a school program with classes, residencies and performances. The company increased the number and complexity of the performances and hired an executive director. Bowen grew as a choreographer, taking on longer and more complex pieces. "You become better at your craft."

With the more challenging performances came set designers, lighting, more elaborate costumes and an increased variety of venues nationally and internationally. "Don't forget the value of venue."
As the company grew, Bowen formed relationships with the Alexandria and Arlington symphonies, chamber singers and sometimes found a composer to write for her. "I have been very committed to live music. It's way more expensive but I followed my passion more as we grew."
In keeping with this tradition, the last performance in September will open with a reprise of "Exuberant Fanfare" choreographed by Bowen and set to the music of Igor Stravinsky's Suite Italienne from Pulcinella and played live by violinist Leonid Sushansky and pianist Carlos Cesar Rodriguez of the National Chamber Ensemble.
The second act will open with the world premiere, "Imago" choreographed by Bowen and set to six songs from German/Croatian composer Nikola Glassl played live by the composer's grandson and music director, Nikola Paskalov on piano accompanied by soprano Karin Paluden. The third premiere is a collaboration with a Turkish composer who wrote "Insistent Music" especially for Bowen. "We hit it off."
COVID hit the dance company hard with cancellation of two big performances scheduled in the spring of 2020 at the Kennedy Center and in New York. The company was at a standstill for several months. But they were able to gradually hold weekly Zoom classes—far from a real workout. "But you have to keep your minds and bodies going."
Last fall they started to get workers back in shape with no touching and removing the partners from one dance. Then in May they were able to live stream their performance including "Trois Reves" from the Kennedy Center where they performed for an audience of 75. Bowen choreographed it with no partnering, safe social distancing and "the graceful sweeping movements that only a Ravel composition could deliver."
Now Bowen plans to move into what she thinks of as her third act.
"I'm not going out to pasture. There is a lot of pressure to having your name on a company."
The professional company will be gone but she will be continuing her Dance for Parkinson's Disease program, which is the only certified program of its kind in the mid-Atlantic region. "It is dear to my heart."
The program meets three times a week. "The program is so wonderful and research has shown that people who attend these classes have a slow down in the progression of the disease." She says, "It's not just physical. Some who enter are barely able to walk and in a sour mood. They go out happy with a smile on their face."
She adds it's not a cure but adds to their quality of life.
McCauley says she is very grateful to have been able to follow her passion. "It's bittersweet but I feel it's right."