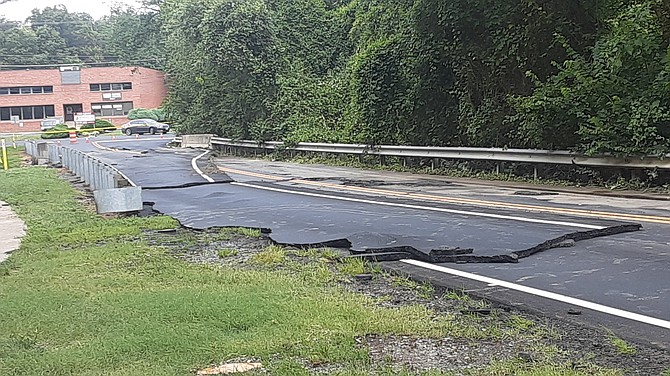 The severe thunderstorm that hit in the early morning hours of Sunday, Aug. 15 dumped a few inches of rain, causing waters to overflow the banks of Long Branch in southern Fairfax County, damaging the new asphalt on Newington Road, and closing this transportation link for several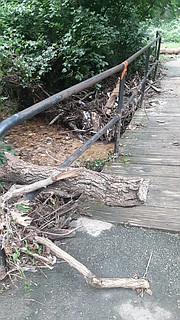 days following the storm.
Road crews were out the following Monday morning, and the road was reopened that afternoon, though the pavement was only milled.
Other damage this storm did in the Mount Vernon area included stream damage in Hollin Hills, trees down, including on the hiking path in Huntley Meadows Park, and another at Lake Accotink in Springfield that closed the main park entrance for about 24 hours. It reopened the following Monday morning.
According to the National Weather Service, the storm dumped 2.62 inches of rain in one storm which is about half of the rainfall this area received in the month of July. These rainfall amounts were recorded at Reagan National Airport.
Jeremy Geiger at the local National Ocean and Atmospheric Administration office looked at the storm as a normal occurrence, that seemed to hang over the southern Fairfax County area.

"When there is heavy rain over a short time period, the impacts are a lot higher," Geiger said. For this storm, there was a "flash flooding concern," he added.
The social media feed for the Fairfax County Emergency Management was on it by 2:41 a.m. on Sunday morning. "Wow that was a lot of rain in a short period of time," it said, recommending people to stay indoors during and shortly after the storm.
"July is typically the world's warmest month of the year, but July 2021 outdid itself as the hottest July and month ever recorded," said NOAA Administrator Rick Spinrad, Ph.D. "This new record adds to the disturbing and disruptive path that climate change has set for the globe." Several Western states had blistering months setting records for heat.
But here on the East Coast, the month of July was mild for weather, according to NWS. Only 4.24 inches of rain was recorded and the average temperature was near normal. The total precipitation was 98 percent of normal and the NWS said it was the driest July since 2016, when only 3.13 inches of precipitation fell.
Nevertheless, a record warm low temperature of 78 degrees was set July 12th. This broke the old record of 77 last set in 2017.