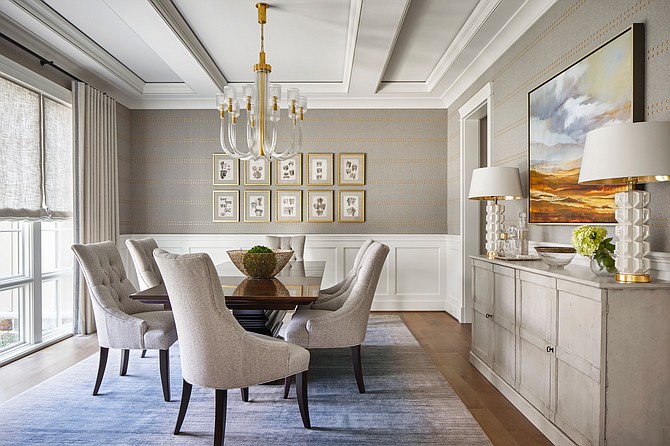 Image by Stacy Zarin Goldberg and Annie Elliott 
Designer Annie Elliott covers the floor of her office with an Oriental rug, which offers a variety of options for pairing with colors in other parts of the room.
Interior designers spend their days helping clients create beautiful aesthetics without compromising functionality.   Whether deciding to paint a living room azure or cerulean or top a counter with Soapstone or quartzite, the job of a tastemaker requires creativity and ingenuity. Now, a few local designers allow cameras into their own home for a glimpse of their personal style.
Those who enter the Bethesda home of designer John Wagner of Designs by Wagner, learn quickly that nothing about it will be subtle. An oversized pink ottoman sits in the center of the room. A plush sofa in a soft beige is positioned in front of a wall that is dotted with more than a dozen family photos, each hung with soft-pink velvet ribbons. 
"I'm a maximalist through and through." Wagner said. "I help my clients create spaces that reflect their taste. You should feel comfortable in your home. It should be a haven from the outside and it should make you proud. For me that means vibrant colors and plush fabrics." 
A variety of colors, textures and patterns can be found throughout the home of designer Annie Elliott of Annie Elliott Design. "A house filled with shades of gray just doesn't make me happy," she said.  "I also like mixing antiques with modern pieces. In my dining room, for example, we have a 19th-century English sideboard and Oriental rug paired with leather chairs...and a glass chandelier from the '80s. The mix takes the edge off of whatever formality people might associate with classic pieces." 
A powder room is a space where Elliott suggests that one might experiment. "I believe that every powder room should be wallpapered," she said. "I have Cole & Son's Cabaret in mine, and I encourage my clients to be as daring as possible in their own powder rooms."  
An Oriental rug aficionado, Elliott often recommends this accessory to her clients. "They can be paired with traditional or contemporary furniture, they give you lots of colors to play with, and they're brilliant for hiding dirt, red wine spills, and dog fur," she said.
Tracy Morris of Tracy Morris Design describes the style of her McLean home as "timeless with an edge." She creates the look using textured wallpaper in her dining room. "It creates a great base for the rest of the room," she said. "We used...a gray tweed with gold accents.  This allowed the room to be enveloped in sophistication.