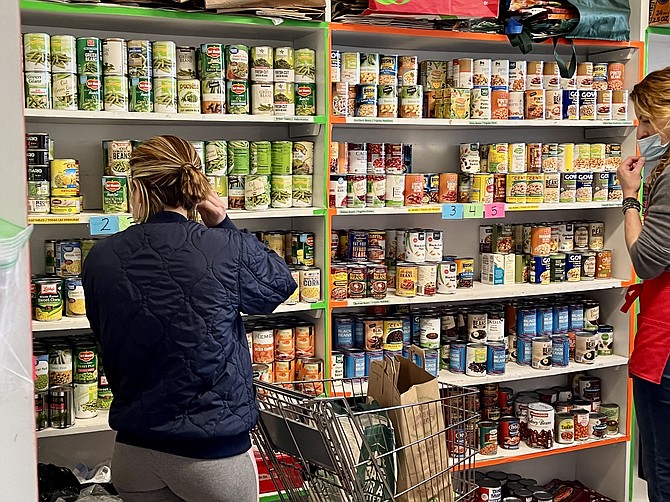 Share of McLean is asking for help from the community because the needs and numbers of the economically disadvantaged and those facing crises have recently been unprecedented. Share serves people in need in zip codes 22101, 22102, 22066, and the Pimmit Hills region of 22043.
Share is in the midst of its second COVID-19 pandemic holiday season and is feeling the crunch. The strain on the organization's supplies became evident when it recently experienced not one but two of its busiest days ever at its Food and Clothing Room located at McLean Baptist Church, 1367 Chain Bridge Road, McLean.
"We've definitely grown since the pandemic in the number of people that come in," said Nicki Watts, office manager and co-chair of the program. "I've been here for about three years. We had 76 families one day, and the day before that, 74 families, so it was crazy," she said.
Share administers its Food and Clothing Program for approximately 1,500 families, totaling 4,000 household clients, in a space donated by the McLean Baptist Church. Share takes donations on-site at a donation shed and a satellite facility, The Redeemer Lutheran Church, located at 1545 Chain Bridge Dr., McLean, from 9 a.m. to 3 p.m. Monday through Friday.
Share receives clients referred from partner faith communities, county social services, and various nonprofit organizations that serve special-needs populations, such as victims of domestic abuse or people who formerly were experiencing homelessness. 
According to Watts, once a client is approved, they can visit the Food and Clothing Program twice a month. The Food and Clothing Pantry is typically open on Wednesday and Saturday mornings for shopping and is entirely operated by volunteers and supported by the community.
However, the space is not conducive to large numbers of people being inside at one time, given its narrow hallway leading to shopping rooms. But the nonprofit is thankful for the use, said Watts, and makes it work. Clients enter, qualify through registration, and receive a colored card designating the number of family members. They return outside to queue and enter in as capacity limits allow.
On Wednesday, Dec. 1, volunteers from the Church of Jesus Christ of the Latter-day Saints, Elder Woodard and Elder Sherwood, wore their red Share aprons and assisted the organization by interpreting for Spanish clients. "I love being here and serving the community," said Elder Woodward. 
Ron Kelley, another volunteer, assisted in the warehouse area by storing donated canned and boxed items after they were inspected for expiration dates.
An industrial freezer in the retail hallway had fish and meat supplied by a local Walmart. Other rooms offered bread, fruit, and miscellaneous supplies such as cooking oil, diapers, hygiene products, coats, and clothing, all well-organized. Clients shopped using utility wagons and, when finished, checked out with the clerk.
Share's Christmas Holiday Celebration, a party event with light refreshments, decorations, a visit from Santa, and wrapped gifts fulfilling "wishes" for the children, is halted in 2021 owing to the pandemic. Instead, a Christmas tree at the Giant Grocery Store on Chainbridge Road will serve to fill wishes this year. Donors can help their community with Share by buying Giant, Target, and Walmart gift cards and turning them in at Giant customer service.
Each family or individual who registered on time receives gift cards that can be used to purchase items that the family most needs. Many parents used the cards to buy gifts for their children from Santa in the past. The amount of money delivered to each client is contingent upon donations received.
Along with its Food and Clothing Program, Share has expanded its services to include an annex at the 143-unit Lewinsville Retirement Residences on Great Falls Street in McLean. Residents who receive government-subsidized housing qualify to come to the Share Annex, as do residents who qualify at The Fallstead Senior Center at Lewinsville in McLean.
Visit Share's donate page to see how to help those in need by making an online donation of food or money via credit card, PayPal, or mailing a check. Volunteers from Share will purchase what is most needed and available. 
HOW TO HELP
* Gift cards for clients can now be purchased at McLean Giant and left at the Giant front desk. Giant or Target cards are available. Share also accepts Walmart cards bought at other locations.  
Many people want to help those in need by donating food. Here are some options: 
* Donors can donate money online by credit card, PayPal or by mailing a check. Share volunteers will purchase what is most needed and available. https://www.shareofmclean.org/donate
* Grocery Gift Cards can be left at the McLean Giant front desk for pick up by Share. 
* Purchase Share's most needed items at this website:  https://www.myregistry.com/organization/share-of-mclean-mclean-va/2380279   Deliveries are sent directly to a safe location where they are loaded into a Share food truck.  
Click here for a list of Share's Most Needed Items.