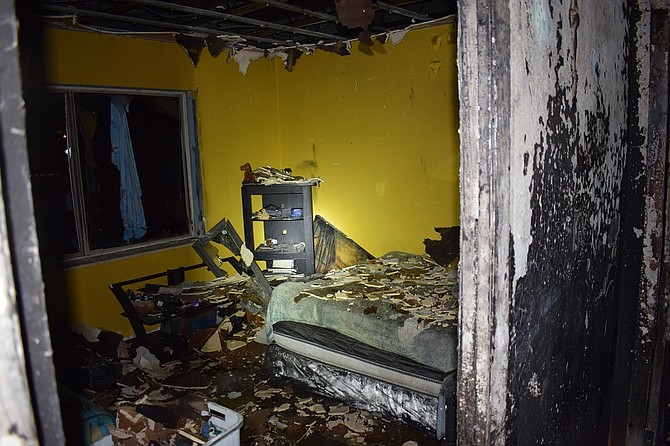 The Fairfax County Fire and Rescue Department reported that nine people were taken to the hospital, two of them with life-threatening injuries, following a two-alarm fire in the Town of Herndon Thursday, Dec. 2, around 5:34 p.m. Units from Fairfax County Fire and Rescue, Loudoun County Fire and Rescue, and the Metropolitan Washington Airports Authority Fire and Rescue responded to an apartment fire in the 800 block of Park Avenue. The blaze left 44 residents displaced and 11 apartments determined to be uninhabitable.
While en route, crews were informed that occupants were jumping out of third-floor windows. The second alarm was immediately requested based on that information. The first units on the scene reported fire showing from the upper floor and smoke filling the stairwell.
Before their arrival, the occupants of one apartment, a mother and three young children, self-evacuated by tying sheets together and climbing down the improvised rope to safety. Three residents were rescued by ladder.
Fairfax County Fire/Rescue reported that the bulk of the fire had been knocked down by 6:02 p.m., with crews hitting hot spots and checking for extension.
At the time of the fire, there were four occupants in the apartment of origin. They evacuated themselves after discovering the fire. The apartment where the fire started had no working smoke alarms. Another building resident noticed smoke coming from the apartment and dialed 911. 
Fire investigators determined that the fire was accidental and started in an apartment bedroom by an electrical event involving a charging cable. Damages as a result of the fire were approximately $287,500. There were no reports of firefighter injuries. Red Cross was on scene assisting the displaced residents.
The morning after the fire, Christian Diaz assisted family members in removing items from their apartment and stacking them on the curb. When asked how many people were in his family, Diaz replied, "Six." Diaz went on to say that he did not know yet where they would go.
Donations Needed
Fairfax Neighborhood and Community Services and Office for Emergency Management, the Red Cross, and Cornerstones have been assisting displaced residents. Donations of food and grocery store gift cards are currently the greatest need. All donations will go directly to the affected families and residents.
Donations may be taken to either:
The Town of Herndon Police Department- Lobby, 397 Herndon Parkway, Herndon, VA 20170

Cornerstones Connections for Hope Partnership, 1141 Elden Street, Suite 200, Herndon, VA 20170, 703-429-5000
Requested Donations: Gift Cards (grocery stores, Target, Wal-Mart, Kohl's); Personal Hygiene Items (Adult & Child); NEW Clothing and Undergarments (Adult & Child); Food and Snacks; Activities, coloring books/crayons, small toys and games, books, magazines; Diapers; Pajamas (Adult & Child); Coats (Adult & Child)