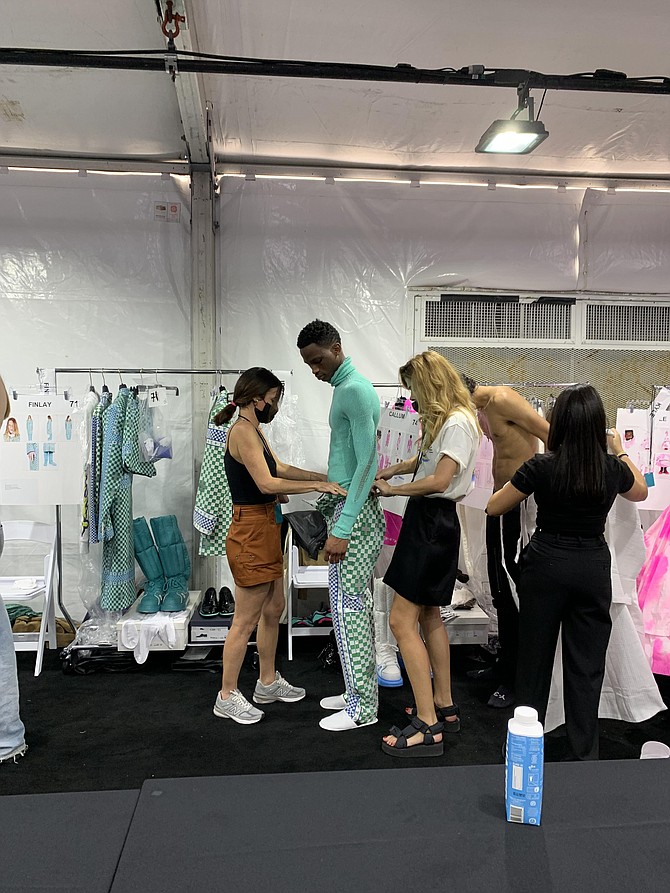 Sometimes it takes a shy teenager breaking out of the mold to inspire other shy teenagers around the world to take that step. This is the case with Ibrahim Sesay, a Lake Braddock senior who recently jumped into the world as a Louis Vuitton model at the Remix Show in Miami.
Sesay was discovered in the hallways of Lake Braddock and now has a message for other teens that may be quiet and reserved due to shyness.
"My goal is to make shy kids everywhere feel comfortable, inspire them," Sesay said.
He was one of them and now looks at himself as an "interesting, confident kid," he said.
The world is opening up for Sesay and it all started in Sierra Leone a few years ago when his family won the immigration lottery and moved to the United States.
In Sierra Leone, "we didn't used to have much," he said, noting that back in Africa he had no inspirations, and there was no one to tell him what he could be. 
"His dad won the lottery visa," said Greg Chan, his manager.
Before hitting the runway in Miami, Sesay looked up to Virgil Abloh, a major force in the Louis Vuitton who recently died of cancer at age 41. Abloh was a world-renowned fashion guru that looked at clothes as more than just a mass of fabric and designs, but an item to convey a message.
"He was my inspiration, I got so emotional when I heard the news, I wanted to learn from him," Sesay said. "He changed people's lives due to fashion," he added.
With Abloh's death, the message will still live on, said Sesay. Coming out of the "shy kid" bubble is a first step.
When Sesay heard about his Louis Vuitton modeling opportunity, a light went on. "I was running up and down the hallway, like a mad man," he said.
It's just the first step in the modeling world though. In January, there's a modeling show in Paris followed by fashion week in New York. Sesay is working on his passport status to be in other shows.
There's still school to consider and since the show in Miami, his grades have picked up along with his goal setting inspirations. He's taking normal classes though and isn't getting involved with the fashion curriculum that is part of the Fairfax County schools. FCPS has a "fashion careers" section.
Sesay is promoting himself through Instagram and follows other models and influencers on this social media channel. "Right now my focus is to get a lot of followers," he said.