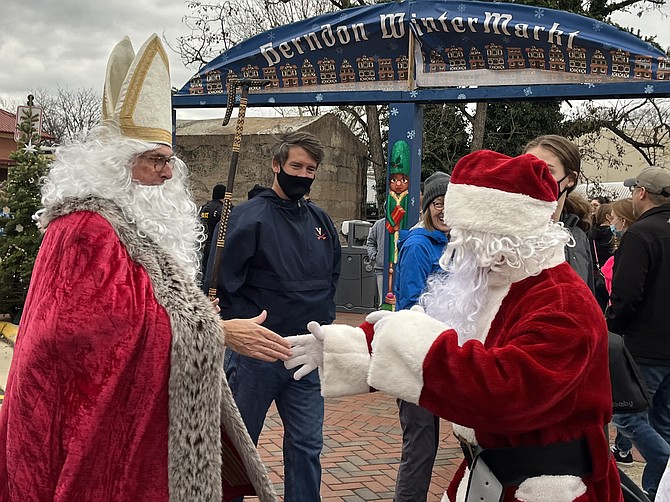 On Saturday, Dec. 11, the sweet aromas of authentic strudels, stollen and artisanal sausages filled the air at Herndon WinterMarkt 2021, rekindling in the Town of Herndon a tradition of 14th century Europe.
The artisan epicenter for locally handcrafted items, cuisine, beer, Glühwein, and confections complemented by music and dance performances debuted in 2019. Herndon WinterMarkt showcases the historic town's diversity. The Dulles Regional Chamber of Commerce organized the one-day event, which took place in the Historic Downtown District for the second time, but this time at a larger location than in 2019. 
Katie Mitchell of Herndon brought her two daughters, Emma, 2, and Ellie, 5, to the market. "Because we only moved here last year, this is our first Christmas in town," Katie said. "Everyone we have met has been so nice."
The new Lower Lynn Street location in front of the Herndon Municipal Center connected to the adjacent Upper James Parking Lot, allowing for an entertainment stage and 40 vendor stalls selling specialty hot foods, drinks, gifts, handcrafted Christmas wood items similar to those sold in Germany, and an infusion of local artisan works. 
The co-owner of Little Austria, Bernhard Gallent, carried hundreds of trays of their award-winning strudels and set them on protected display tables only to see tray after tray sold out. But Gallent kept them coming. The company uses locally sourced ingredients and follows the traditional method of hand-stretching the dough to paper-thin. "Of course, Little Austria will be here next year, too," Gallent said. He added that Little Austria was one of the original 2019 vendors.
Jeanine Kolman of Herndon stopped by the Herndon Historical Society's stall to purchase the "iconic Herndon Depot sign." 
"I love biking on the W & OD Trail — Herndon is almost the halfway mark," she said.
Saint Niklaus joined Sheila Olem, mayor of Herndon, Veronika Beutin, director of the German Information Center, German Embassy Washington,  platinum sponsor Northwest Federal Credit Union, and host Dulles Regional Chamber of Commerce at the opening ceremony. The free, traditional, European-style Christmas Market embraced the European holiday's focus on family, making it a successful event for vendors and visitors. Andrew Black of A&C Artisan Crafts said, "Sales are great, and we should be back next year."
Despite some long lines, the one-day event provided plenty to see and do, with Santa and Saint Niklaus greeting visitors and the weather, albeit windy, cooperating this year. 
"Approximately 11,000 visitors attended Herndon WinterMarkt 2021," said Keven LeBlanc, co-chair organizer. "We thank the community, vendors, and sponsors for making this a delightful holiday event full of camaraderie, cheer, and support for one another."