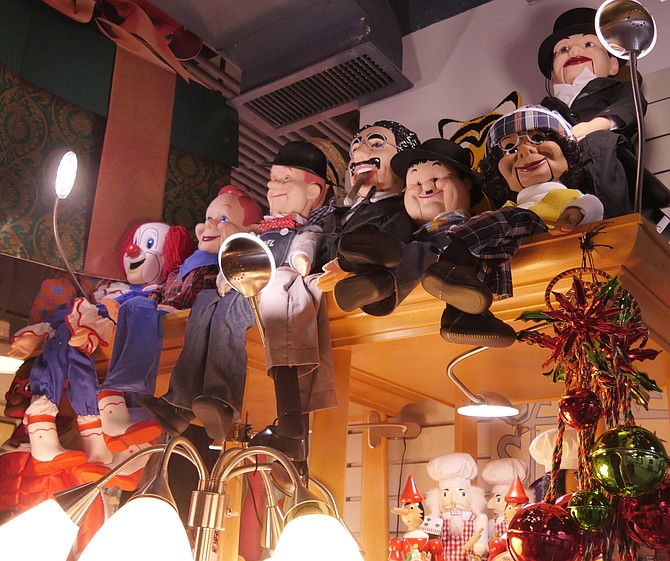 They'd never heard of Elmo in Benin, West Africa. Alban Odoulamy, owner of Puppet Heaven tucked in a corner of Crystal Square Arcade says, "All of the little kids who walk by my window-display of puppets yell to their mother, 'There's Elmo!' They don't see Big Bird or anyone else; it's just Elmo."
Odoulamy has hopped around, occupying several spaces in the underground shopping arcade, since he opened up his first puppet shop in April 15, 1996. "The first space was very small, affordable at the time." His first shop was called La Marionette since his native language is French and he had been trained as a marionetter in his country. "There have been many changes in 25 years."
Odoulamy said he never would have gone in this direction except in 1983 he was employed by the only Benin government TV station. "They had a new program for children on tv so they trained three of us to be marionetters." He  adds sometimes they used the children's puppets to work in a political message. 
In the beginning Odoulamy sold his own homemade wooden marionettes. But he found the children who came to his first store asked to see puppet animals and everything they saw on TV. 
He always listens to what people say and he gradually expanded his shop to add a wide variety of choices. Now you see puppets from floor to ceiling, wedged in corners, hanging from hooks. A shelf high inside the door features Howdy Doody, Groucho Marx and Bozo the Clown lined up in a row. A two-foot high wizard puppet greets visitors alongside a white clad princess. A box of finger puppets sits wedged among cartoon characters and ventriloquist dolls.
Odoulamy is also a painter so he combined his next store with a studio where he could paint puppets but also work on his own oil paintings.  Odoulamy says his first trip to the United States in 1990 was not about puppets. "I was asked by the Ambassador of Benin to exhibit my paintings in the Pepco Center." He points to a sketch on the back wall of his shop. "This is my father painting in Benin, and that's me at five years old and my brother on the floor."
Odoulamy has a few of his paintings scattered around the store amid the puppets. "See this oil I painted in 1990 is not just somebody on a bike.  You see he is carrying a lot of baggage and the bike is traveling up and down, like our life. But the pink shows he is still happy."
Odoulamy plucks a rod puppet out of a box of choices. He pushes a 6-inch stick upward through a purple cone with a jolt. Up pops a green frog. Odoulamy wiggles the stick and the puppet bows to the right. Odoulamy's animated face begins a conversation with an imaginary child. "The little ones always love peek-a-boo." Odoulamy explains he used to do shows for birthday parties and other events and hopes to do that again when he has more free time.
All kinds of people buy puppets from the tiniest children to churches and schools for performances to lovers who buy Lambchop as a sign of affection for Valentine's Day. One woman came in and bought 20 of the more expensive ones. "I asked her if she planned to sell them and she told me she is a collector." Odoulamy said some people buy puppets online but most people like to see them and touch them in person. "A child may think they have seen a large puppet but find it is small when they see it in person."
Puppet Heaven is open from 1-7 p.m. Monday- Saturday at 1625-A Crystal Square Arcade. For more information: www.puppetheaven.com