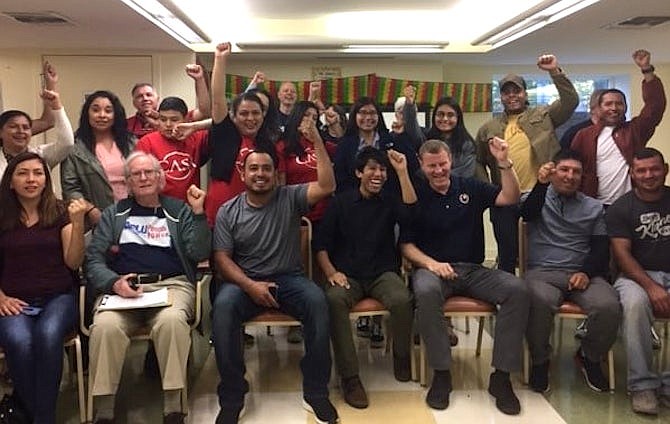 Fairfax County's Board of Supervisors approved in a vote of 9-to1, the Public Trust and Confidentiality Policy (Trust Policy) introduced as a Board Matter on Jan. 26 by Chairman Jeffrey C. McKay and co-sponsored by Supervisors Dalia A. Palchik (D-Providence) and John W. Foust (D-Dranesville). The Trust Policy prohibits County employees, government agencies and departments, including the police, from voluntarily sharing information or cooperating with Immigration and Customs Enforcement (ICE) officials.
"Immigration enforcement is done by others, and unless required by law, we will not share immigration status for individuals. This is particularly important to our police department when we are trying to solve crimes in our community," McKay said.
The Trust Policy states: "It is not an appropriate use of Fairfax resources to facilitate enforcement of federal immigration law, which is the sole responsibility of the federal government. Cooperation with civil, administrative immigration enforcement is especially problematic because it lacks the constitutional protections of criminal law, and ICE civil detention requests are frequently issued in error."
The policy reasserted what McKay said was the role of local government and the community's desire to assist people by working with them, not against them.
"Having this policy in place is the humane and right thing to do to provide safeguards to those who need our services the most," Supervisor Walter Alcorn said.
THE TRUST POLICY addressed reports that some undocumented immigrants in the County avoided seeking help during the pandemic out of fear of being deported after information they shared with the County would be disclosed to federal immigration officials. Supervisor Rodney Lusk (D-Lee District) said it became clear to him from conversations with a number of nonprofit organizations that there were community members "who were fearful and not willing to come forward and ask for help because they thought they were going to put themselves in jeopardy."
According to a post by ACLU People Power Fairfax on Facebook, Jan. 26, the Trust Policy "provides privacy protection for residents' personal information; it restricts information sharing with all outside entities. This helps all Fairfax residents, but especially immigrants, because ICE is so adept at data-mining any information from any source."

A second post the next day by ACLU People Power Fairfax said that the Trust Policy does not just "codify" existing practice.
"Significant new guardrails were put in place to prevent direct AND indirect sharing of data with ICE. Immigrants can breathe easier. Their fear of government was not irrational even if county employees did not intentionally share their information; the risk was there. Now trust can be rebuilt," ACLU posted.
On Friday, Jan. 29, immigrant rights advocacy groups CASA and ACLU People Power Fairfax co-hosted a bilingual press conference. After four years of advocacy, they celebrated passage of the Trust Policy. Moderators Luis Aguilar of CASA, and Diane Alejandro, with ACLU People Power Fairfax, celebrated and spotlighted comments by McKay, Foust, Palchik, Steve Descano, Commonwealth's Attorney, and members of CASA and ACLU People Power Fairfax.
"It is without a doubt that Fairfax County is leading the way for CASA and our 100,000 regional members," said Aguilar.
McKay said the Trust Policy passage marked a new chapter for Fairfax County. "We will do everything we can to help people, protect them from association with ICE," said McKay.
Foust said the advocacy and education provided by the CASA and ACLU teams led to the adoption of the Trust Policy, and the timing couldn't be more critical to the Latino community.
"Covid is having a grossly disproportionate impact on the Latino community," Foust said. "Everyone can take advantage of the ongoing public health efforts. Whether it be testing or vaccinating, or assisting with contact tracing, it is critical. … This can be a huge step, I believe, toward fighting the spread of Covid in the Latino community."
For Palchik, it was personal. "It's very close to my heart, not only as the first Latino Supervisor here in the history of Fairfax County but also as an immigrant."
Steve Descano, Commonwealth's Attorney, said that with the passage of the Trust Policy, "If you come to court, you will not be turned over to ICE. … I'll continue to work with County leadership and get input from groups like those that are joining us today and, as always, bring the values of the community into the courthouse."
According to Alejandro, she and McKay agreed that non-law enforcement agencies already strive to protect immigration status. Still, other information that ICE has used to locate its targets remained vulnerable. "This is why the protections against sharing addresses and other private information are so important. The ones in the Trust Policy rival the best in the country. The board can be proud," Alejandro said.
DURING QUESTIONS AND ANSWERS, McKay said that the policy is for all Fairfax County agencies, but does not apply to those operated by towns and the City of Fairfax. "It's a little bit of a mixed bag for programs that those individual cities run. Our policy can't dictate what they do. … For services that we run in those jurisdictions, this policy does apply to those. For example … in some cases, we run the school system." McKay said that as for things that come up through the Northern Virginia Regional Gang Task Force, of which the County Police Department is a member, "our officers will not be participating in that. This policy doesn't set the policies of the Gang Task Force."
Other comments shared during the celebration of the passage of Trust Policy:
Melvin Mancia, a CASA member, resident of Fairfax County since 2004, said police pulled him over for a traffic violation. "I am one of those persons who have suffered the consequences of the previous law," Mancia said. Police took him, handed him over to ICE, and detained him in a facility for months. Unlike some of his friends, Mancia got out. He lost his home and his business. His friends lost more. When they were deported, Mancia said they ended up in the countries they fled out of fear of abuse. "Some of them were even killed."
Yanira Martínez is a CASA Member and resident of Fairfax County for eleven years. She is a single mother from El Salvador who cleans offices to support her family. Martínez and her family face Covid-19 without health insurance. She has fought for years so that at least now, with the Trust Policy, she has one less thing to worry about as she cares for her children.
Nuet Le is an ACLU People Power Fairfax member and has lived in the United States for forty-five years. She fled Vietnam as a youth with her family to escape the violence and persecution. "I remember what life was like in Vietnam, where police could pick you from the street or your home at any time. Then your family might never see you again. I understand why immigrants and people of color in Fairfax are afraid of the police and won't call them for help. Why they're afraid to get Covid tests or get treatment from the health department," Le said.