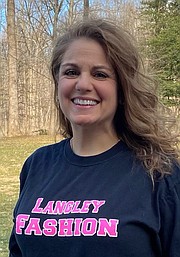 Langley High School announced its Teacher of the Year 20-21 during a virtual staff meeting. This year's awardee is Tricia M. Poythress, Career and Technical Education (CET) Department Chair. She brings real-world learning and skills to her Marketing students and builds supportive relationships with them.
According to Poythress, she was at home and attending a virtual staff meeting when she learned the recognition. "My doorbell rang. It was Mr. Robertson, assistant principal, with two dozen roses and green and gold Congratulations, Star balloons — Publishers Clearing House style. It was a shock," said Poythress. "Mr. Robertson had his phone, and he was videoing, so he was live during the faculty meeting," she said.
Poythress has been teaching for 35 years and said she believes what makes her a good teacher is the connections she can make with her students. Unlike required graduation coursework, career and technical education courses are electives. Poythress said that the ability to teach students for extended years, many all four years, allows her to watch them develop and to build relationships that, for some, last even beyond their senior year.
"I work very hard to create a place where my students feel comfortable sharing their opinions with me and with each other. We build mutual respect for each other and our differing viewpoints," Poythress said.
According to Robertson, teachers are nominated by fellow teachers, students, and parents. The final nominations are submitted to the school administration, and the teacher is selected. Robertson said that Poythress was chosen because of the number and the narratives submitted, and the information in those narratives. "Many different characteristics make a great teacher of the year. The list is long but includes caring, sense of humor, creativity, engaging lessons, a good listener, etc. Ms. Poythress has all of these and more," he said.
Robertson provided a selection of comments which validated why administrators awarded Poythress Teacher of the Year.
"Mrs. Poythress has been my rock and my inspiration for working so hard during virtual learning." "Mrs. Poythress …..would wake up every morning and play music to wake us all up, have a smile on and a happy attitude." "I know I can always go to her if I need help with anything, even if it's not school-related."
While Poythress could retire anytime, she loves teaching too much to do so. "Even if I won the lottery, I'd still go to work. I might have somebody drive me, but I'd still go to work because I genuinely love my job…I love my students, I love Langley and the community."