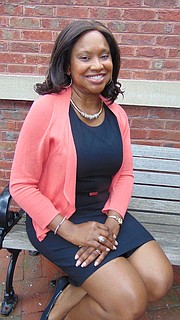 Kim Greer of Fairfax, who has 25 years in education, was named new principal of Langley High School, effective July 2. She will be replacing Fred Amico, who is retiring. Greer will be leading 1,800 students and a staff of 157 teachers at the only high school in Fairfax County that offers a Russian and Japanese immersion program.
As part of the Langley Pyramid, the ethnic breakdown of students at Langley High from 2016-17 stats includes: white, 64.59 percent; Hispanic, 5.07 percent; Black, 1.12 percent; Asian, 23.59 percent; and Other, 5.63 percent. There are 95.18 percent of students in the General Education program.
"It's going to be a school where it's less diverse than most in Fairfax County, but it's a high-achieving school. It's a supportive community where everyone wants to make sure the students have the skills necessary to be successful post-secondary," she said.
She added: "When you look at the fact that you have a school where most of the students come from a higher socioeconomic level or background, that provides resources to students who are highly motivated to do well, I think, and get a lot of support from the community," she said, adding, "For me, it's about meeting the needs of the whole child. While these kids might have a lot of financial and physical resources, at the end of the day, they're still kids. So, we need to make sure we're able to take care of all of their needs."
Built in 1965, Langley High, which is completing a schoolwide renovation, already has a business partnership with Deloitte of McLean. Greer is looking to strengthen it and make it a two-way partnership. "I'm looking to provide many opportunities to our students through the partnership," she said. Deloitte employs 245,000 people in 150 countries and provides audit and assurance, tax, legal, risk and financial advisory and consulting services.
AS FAR AS CHALLENGES, she's looking forward to getting to know the Saxons community, the kids and the families of Langley. "There's a very strong contingent of teachers who have been there for many years, so I want to continue to meet the needs that they may have as well as finding ways to be innovative in our teaching and learning practices," she said. One of her goals is to build relationships and trust with key stakeholders, she added.
What she loves about her job is "being able to ensure that the needs of every student and teacher are being met. That's what really gets me up in the morning," she said.
While working with the school's PTA, she wants to "make sure I recognize that right now there's a strong relationship between the school, administration and PTA, so I want to continue that relationship to use the organization for a resource for the school and a way for us to be able to meet the needs of all of our learners," she said.
According to Marshall High Principal Jeffrey Litz who worked with Greer: "Kim Greer is an extremely competent administrator who I am sad to lose at Marshall High School. At the same time, I am very happy for her. She has been working very hard and has earned the opportunity to be principal of such a great school. Kim strongly believes that every child is an individual and that we, as educators, need to reach each child by name and by need. The Langley High School community will quickly learn how much Kim cares about students, teachers, staff, parents and the community at large. I am confident Kim will be a wonderful principal and continue what has been a strong career."
Added Helen Anderson, special education teacher at Marshall High: "Langley is so fortunate to have such a strong administrator as their principal. (Kim) is an expert in all things FCPS. She is fair, progressive, and open-minded. My favorite thing about Mrs. Greer is that she hires the best and most qualified teachers, and then she stands back and allows us to do our jobs. She has never micromanaged us. As a special education teacher, I have faced many challenging students and situations, but Mrs. Greer has always been incredibly supportive, and she has an intimate knowledge of Virginia's Special Education laws."
Ellen Reed, learning disabilities teacher at Marshall High, added: "Kim Greer leads with grace, confidence, and poise. Her example of leadership is pristine and she exudes respect for her staff. Kim has been instrumental in my personal development as a leader, consistently mentoring and supporting me in my journey. I've gained invaluable skills from being under her leadership, and she is going to be greatly missed."
GREER GREW UP in Lenoir, N.C., and received her bachelor's degree in middle grades education from UNC Greensboro; a master's in curriculum and instruction from Virginia Tech; and an Administrative Endorsement through George Mason University.
She started her teaching career at Key Middle School where she taught English; then Hayfield Secondary where she taught civics and U.S. history (teaching for a total of 12 years); then held assistant principal jobs for 11 years at Westfield High, South Lakes High, and Marshall High schools. She is already transitioning over to Langley High.
At Marshall, Greer is known for saying: "A bad day at Marshall beats a good day anywhere else," which she says (with a smile) she'll be using at Langley, too. Greer is married and has three children ages 17, 15, and 12.