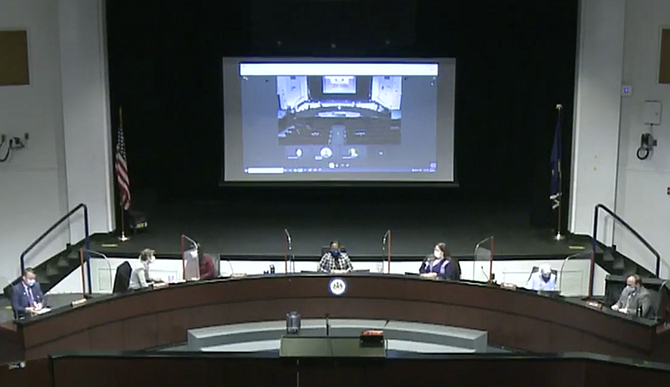 The Fairfax County School Board heard the final words on the McLean/Langley High School Boundary Study during a hybrid regular meeting of the Board held on Feb. 4, 2021. Dr. Ricardy Anderson, Chair (Mason District Representative), called on Dr. Scott S. Brabrand, Division Superintendent, to introduce the topic and make a recommendation. "After extensive community feedback, including feedback from the Jan. 28, 2021, public hearing…staff is recommending Option B as it was presented at the community meeting on Dec. 7, 2020…It will better balance capacity between schools and it will allow staff and FCPS to do continued monitoring of population growth and plan development in Tysons," said Brabrand.
The adjustment, which identified an estimated 190 students at the high school level and 78 students at the middle school level, realigns the boundaries of McLean High School, Langley High School, Longfellow Middle School, and Cooper Middle School. The change adjusts the Colvin Run Elementary School split feeder area, a portion of the Spring Hill Elementary split feeder area, and a portion of Westbriar Elementary from Longfellow Middle-McLean High to Cooper Middle-Langley High.
THE APPROVED PLAN goes into effect at the start of the 2021-22 school year with phasing and grandfathering adopted. The high school option that parents/guardians choose for the 2021-22 school year will determine the students' school through the 2024-25 school year and cannot be changed. Fairfax County Public Schools announced detailed information and what to expect in a Feb. 5 News Release, available on its website.
Option B was not the one that Jeffrey K. Platenberg, assistant superintendent, Facilities and Transportation Services, and member of Superintendent Brabrand's leadership team, presented as staff recommendation at the Board's Jan. 21 regular meeting.
School Board Representative Elaine Tholen (Dranesville District) introduced the motion to adopt Option B of the McLean High School Boundary Study. Karl V. Frisch (Providence District) seconded the motion. Following a Board-approved appeal by Tamara D. Kaufax (Lee District), whose audio was not operational during the vote, the final recorded vote stands at 11-1.
Abrar Omeish, an At-Large member of the School Board, presented the sole dissenting opinion during the discussion before the vote. She said that staff had recommended different things and "the previous time recommended C." According to Omeish, her thought process and decision not to support the motion had nothing to do with the diversity piece but everything to do with thinking long term.
"None of these are good options. We're kind of stuck choosing amongst difficult ones that have pros and cons in every direction…It pains me to be saying any of this and not to feel in good conscious to vote in support…I can't reconcile not finding ourselves here five years later, in the same place, because we didn't make the best adjustment we could have with what we are faced with. We know that the Tysons area is one of the fastest-growing development area(s). We know Marshall High School is so overcrowded that they can't even accommodate kids for IB anymore, transfers for any reason. That whole region is exploding in population."
Following her first approved motion, Tholen introduced a second motion, "a nod to the hardships our Longfellow eighth-graders are undergoing." She mentioned the students' combined stresses of COVID, mid-year admission's policy change for Thomas Jefferson High School for Science and Technology, and boundary change all at the same time. Tholen presented a motion that rising ninth graders residing in the area changed would have the option to attend Langley HS in SY 2021-22 or be grandfathered at McLean HS with transportation provided through 12th grade in the 2024-25 school year.
THE BOUNDARY ADJUSTMENT is another step to alleviate capacity pressures at McLean HS. Modulars will be open later this month and ready to accept high schoolers as they return to school in March.
Fadi Shadid, Co-Chair of the Special Committee on Schools at the Great Falls Citizens Association, wrote in an email, "Of the three options considered, I think Ms. Tholen's and the Board's decision on option B is the better compromise for Great Falls. It satisfies the various goals well while not excessive on Cooper and Langley's capacities. It is a significant number of students but comes from neighborhoods with little to no future development as compared to other options considered."
Shadid said that an expansion of McLean High School in place of a boundary adjustment would have been the best solution. "It would offer long-term relief for MHS while leaving more room for growth at Langley. We believe that more capacity at MHS is still urgent because of the rapid growth in the two pyramids."
Shadid recommended that the upcoming school bond in the November elections would be a good opportunity to allocate capital to McLean High School. "The Mclean and Langley communities should get more involved with county representatives to expand MHS, so we are not in another school overcrowding situation in a few years," he said.

The public can view proceedings of the FCSB's Feb. 4, Action Items 4.02 McLean/Langley Boundary Study via YouTube beginning at 1:22:19.