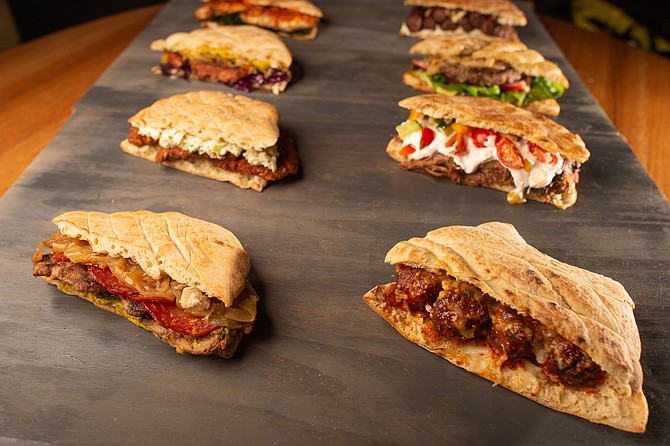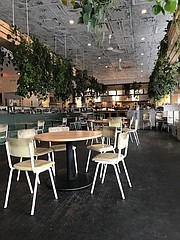 One of the cultural challenges of living in the Washington, D.C. metro area is sampling every possible international cuisine.
Fortunately for Northern Virginians, Arlington is home to a Balkan restaurant called Ambar. (Yes, it operates a location also in D.C.) This accessible destination is a must-go for locals who are familiar with Mediterranean fare. And it is a must, too, for locals who want a tasty lunchtime treat from the restaurant's recently introduced Balkan street food menu with its array sandwiches.
Sandwiches, one may wonder since Balkan cuisine is focused on short rib goulash, stuffed cabbage, meat kebabs, and cheese pies made with phyllo dough. But these street food treats are just that: treats.
The new sandwich menu is the creation of Ambar's Executive Chef Ivan Zivkovic. The centerstage of this newcomer menu is the large sharable sandwiches, which feature the slow cooked, locally sourced produce and the house-made smoked sausage. The sandwiches are served on seven-inch bread that is traditionally baked in a brick oven.
When patrons enter, they will take in the restaurant's layout: a long bar to the left with some seating, and to the right by the windows facing the sidewalk and separated from the bar by a low wall, the dining area. Towards the rear is the open-air kitchen, and with luck, patrons can get a glance at busy chefs and the waitstaff.
After being seated, patrons get the regular menu, but if they don't receive the "family meal" menu with its sandwich section, they should ask for it. Yes, sandwiches are generally considered very casual fare, but the Ambar kitchen puts out eight different choices.
Instead, the choices go from a Balkan kebab made with ground beef and seasoned with kajmak, to roasted lamb, an Ambar burger with pickled ketchup, to smoked sausage, to Balkan fried chicken, plus others. All sandwiches are served on a seven-inch Balkan bread that resembles pita bread, and all sandwiches come with fries and a mound of kale Caesar salad.
While many choices may likely resemble their American counterpart, such as the hamburger, the tempting option is to go all Balkan. The kebab and the Balkan fried chicken are terrific choices. The former comes as a lineup of grilled sausages assembled onto the bread and seasoned lightly with herbs and marinated onions. The chicken sandwich comes as two flattened chicken patties coated with crumbs and grilled, resulting in a crunchy delight.
Note: sandwiches may well be the meal's choice, but patrons should not skip past any opening dish. The veal soup is outstanding: its clear bone broth contains root vegetables and at the bottom of the bowl, a daub of crème fraiche—delicious. And consider baklava for dessert.
Ambar Clarendon
2901 Wilson Blvd., Arlington, Va. 703-875-9663.
Hours: Lunch, Mon.-Fril, 11 a.m. to 3:30 p.m. Dinner: Mon.-Thurs., 4 p.m. to 10 p.m., Fri., until 11 p.m., Sat., 4:30 p.m. to 11:30 p.m.; brunch, Sat., Sun., 9:30 a.m. to 3:30 p.m.