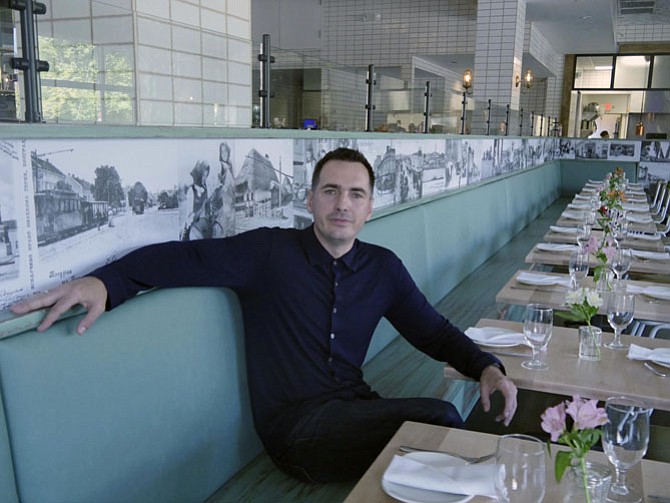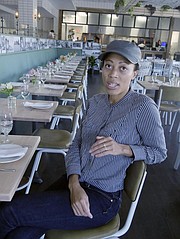 Favorite Balkan dishes with a modern twist have arrived in Arlington with the opening of Ivan Iricanin's new Ambar restaurant on Wilson Boulevard. Iricanin sits at a table refurbished from the previous restaurant and looks around the new space designed by his wife, Nya Gill. "Final touches," he said as the fresh plants are arranged in the overhead room-length rectangular planter, "and opening only two days late."
Iricanin explains the restaurant combines the countryside of the Balkans with an evolving city concept, not just a stereotype but adding the sophisticated side of eastern Europe. "Nya and I travel around Europe. We see things and we like good food everywhere. This is our vision — all sides of what I know."
Gill added, "The overhead flowers are part of the country. A lot research went into what kind of flowers would grow in these light conditions. But our corner location with floor to ceiling windows will bring in a lot of light."
Iricanin is sitting along a wall of adjoining pictures forming a border of scenes from Belgrade. "This is a trolley in Belgrade in 1902. These women are harvesting jecam which is a grain used to make bread, and this is taken from a postcard of one of our famous monuments. We bought these from collectors." And there are a lot of vintage elements from old photos incorporated into the decor. Gill points to the ceiling, "meant to represent the tin ceilings in Europe. There are many different patterns on the squares to add interest. Each is painted black, then white, then scraped to look old."
Iricanin says they have a lot of experience with recipes. "We like to improve daily, try new recipes non-stop." He adds that about 70 percent of the recipes are different than the Ambar restaurant on Capitol Hill, which they opened in 2013.
The most popular items have included the stuffed cabbage rolls. "But ours are a little different because they are stuffed with pork belly, root vegetables and jasmine rice." The Balkan kabobs are also a favorite. "We don't do spices, just salt and pepper. The difference is the quality of our meat which we grind every day and never reuse pieces." And of course there are the mussels with a classic lemon-caper cream sauce and with Raika (a fermented fruit brandy).
Chris Hawkins, chef de cuisine, brings out a plate of Kajmak that he says features the Balkan creamy dairy product similar to clotted cream, a special ingredient used in many dishes. Porcini mushrooms are sautéed with yellow onions until they are caramelized "with a sweet flavor." Then pureed and kajmak folded in. Finally walnuts are sprinkled on the top.
Hawkins helped develop the menu with Iricanin and will work with Dejan Pilovic who has moved here from Serbia to be executive chef and partner up with Hawkins.
"Our emphasis is on fresh, locally produced ingredients, like cooking in Europe. There you wouldn't label ingredients organic because that's the norm. And," Hawkins said, "they love meats more than anything."
Iricanin added, "We buy cold cuts from a farm in New York, third generation Serbian. "And we buy veal, pigs, lamb from Amish farms in Pennsylvania."
Ambar opened for dinner Oct. 5 but Iricanin expects to add lunch and weekend brunch in several weeks. During the week they will open at 9 a.m. to have good coffee and breakfast items like egg dishes. At lunch they will offer 15 different sandwiches such as their cold pressed open-faced selections, an idea picked up from a recent visit to Copenhagen. These sandwiches are gluten-free, and there is no top to the sandwich so fewer calories; and the small bread is not baked, but a mixture of pressed seeds. "You eat it with a knife and fork."
In addition to a selection of Balkan wines, the bar will be the first in Virginia to offer several versions of Rakia, the traditional fermented fruit brandy considered to be the national drink of Bulgaria as well as Serbia. For total immersion, combine Rakia with the Balkan Experience which offers unlimited small plates for $35.