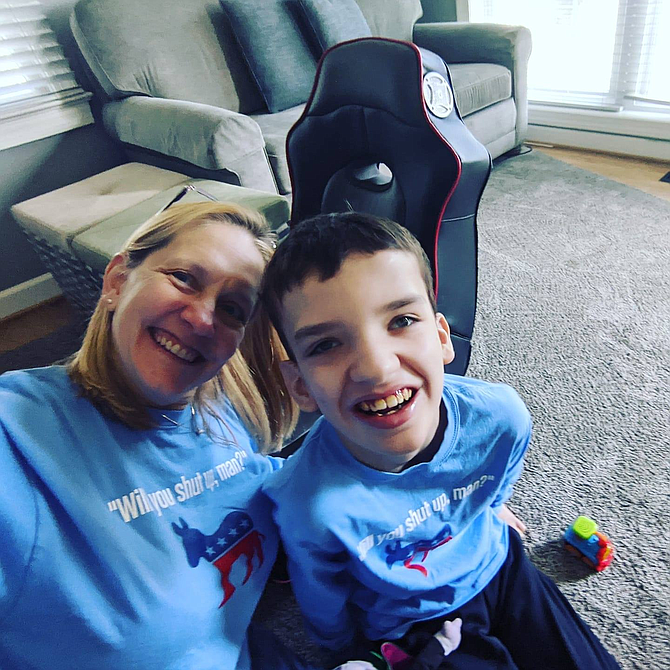 When Lisa Lightner's son Kevin was two years old, she discovered that he would need special learning support in school. She has spent more than 12 years working to make sure he received the necessary assistance in the classroom. Now she is helping other parents avoid the frustrating and difficult process that she endured. Lightner is now a special education advocate, blogger and host of the podcast "Don't IEP Alone," a title that references an Individualized Education Plan (IEP). She uses her platforms to raise awareness and share information and resources to help other parents navigate the complicated and overwhelming path to securing the best education for special needs.
"Working to get help for Kevin was a challenge. It's really an overwhelming process," said Lightner, whose son is now 14. "I'm college educated and I had so much trouble figuring it out." changes that remove barriers and provide your child with equal access to learning.
Recognizing that a child has and a learning disability, such as dyslexia or Attention-deficit/hyperactivity disorder (ADHD), and determining the type of accommodations and adjustments in school to ensure that they have equal access to learning, is an arduous process. Though the Americans with Disabilities Act (ADA) gives children the right to have IEP that includes a learning plan tailored fit their learning differences, they don't always receive it.

"The special education climate has really changed in recent years," said Lightner. "Schools are doing more with less. Teachers have larger class sizes, fewer resources. It's very easy for a child to fall through the cracks if you don't stay on top of their progress."
Learning disabilities can often go unnoticed, but red flags that a child might have a learning disability include low grades and difficulty keeping up with their peers academically. "Parents are often the first to recognize that their child may be struggling with certain learning endeavors, for example reading, math, or writing," said Clara Hauth, PhD Associate Professor, Special Education Marymount University . "The terms for these learning disabilities are dyslexia, dyscalculia and dysgraphia."
"A more obvious telltale is when the child shares with you an ongoing pattern of frustration about schoolwork or shows a lack of engagement in school," added Kelley Regan, Ph.D. Professor and academic program coordinator for special education at George Mason University. "Also, if work completion is taking an unusual amount of time or the child shows little independence or a lack of understanding of assignment or there is an avoidance of schoolwork; these could be signs that the child's needs may or may not be met."
The current virtual learning environment and the resulting restructuring of the way that accommodations or IEPs are being administered might make noticing whether a child's academic needs are being met more challenging. "We also have seen firsthand over the last year how unprecedented circumstances like a pandemic have impacted delivery of instruction for students with disabilities," said Regan. "The delivery of services for students with disabilities had to be revamped by school districts across the nation and now we are seeing the impact of school closures on student achievement and social-emotional learning."
A diagnostic test will help identify and confirm a learning disability. "Parents who feel that their student may have a disability should contact both their family doctor and the school to request initial meetings to discuss their concerns," said Hauth.
Such tests could provide information to guide the creation of an IEP that outlines the accommodations that will meet a child's learning needs. Examples of these accommodations include additional time to take tests and complete homework and assignments or having tests administered on a one-on-one basis.
Even with an IEP in place though, some children might not get the resources they need. "Research tells us that many novice special education teachers and even veteran teachers feel overwhelmed by their workloads and managing these workloads can be challenging," said Regan. "To meet the needs of students, teachers need adequate resources and materials, and they need devoted time to collaboratively design meaningful instruction for students. Limited resources and time may be one explanation as to why children with learning disabilities may not be receiving what they need."
In an ideal learning environment, a general education teacher collaborates with a special education teacher and they design specialized instruction that allows the student to succeed with the general education curriculum. "If … the needs outlined on the child's IEP are not being met for the child, a parent should advocate."

Almost everything is more challenging within a virtual learning environment, monitoring a child's academic performance is still essential, says Lightner. "Engage in the IEP process, all of it, all year round," she said. "You have to stay engaged and in contact with your team and your child's progress. Understanding the evaluations and progress made is essential."
Sometimes, the needs of the child with learning disabilities changes. In such cases advocacy is necessary, advises Regan. "When the individualized program is not providing the supports that previously sufficed, a parent may need to and should advocate," she said. "For example, a parent may observe that his or her child appears very disorganized with his or her school materials, is turning in assignments late or not at all and needs an effective strategy in place for an observed problem. Likewise, there may be a need for adjusting the intensity or frequency of instruction. Instruction should be appropriate for the child."
An array of resources are available to help parents become effective advocates for their children. "Parents have a voice in the school district's resources and supports for children with learning disabilities," added Hauth. "Staying informed and working together with your school will support positive educational outcomes for your learner."
For more information:
ldonline (http://www.ldonline.org/) 
Council for Exceptional Children (https://exceptionalchildren.org/).
PACER  (https://www.pacer.org/)